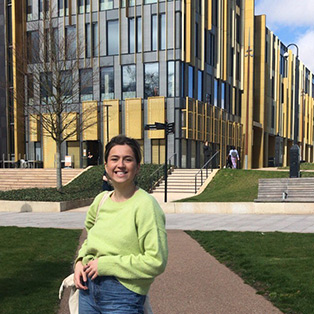 My name's Olivia Saunders and I'm in my third year at Birmingham, studying History. I should have been on my year abroad this year, studying in Prague. But sadly, due to the pandemic, I had to cancel and so have returned to Birmingham to complete my final year. I'm from the West Midlands (near Dudley), which means I'm a mere 15-minute train journey from Birmingham. However, I decided against commuting in and have instead been living out at Uni for the entirety of my degree. I'm most certainly sure that there are perks to commuting in and have heard from others that it can be an enriching experience. But I've thoroughly enjoyed being able to get the full university experience by living in halls and later in the student hub of Selly Oak.
For me, a big draw to Birmingham was the campus itself. I decided very early on that I'm less of a fan of city Universities and therefore absolutely fell in love with Birmingham after seeing how gorgeous the campus was. The facilities and environment that I've been able to work in has thoroughly enriched my time at University. Birmingham's History Department itself was certainly one of the biggest selling points for me. The benefit of having a huge collective of staff, each of whom specialise in a multitude of disciplines, means that the breadth of the course is so vast.
My favourite module that I've studied so far was one of my second year modules, titled 'Gender and Sexuality in 20th Century America'. This topic was everything that I enjoy most about history, all wrapped up in one module. I've always been interested in women throughout history. However, it was certainly this module that made me realise that the topics of Gender and Sexuality were the areas that I wanted to specialise in throughout the course of my degree. Alongside this, the academic who led this module very quickly became one of my favourite members of staff at the university. Her passion for her field most certainly rubbed off on everyone in the class, as we were all encouraged to discuss and debate these delicate topics at great length. I've had the pleasure of working with this academic again this year, as my dissertation is solely based on one of the essays that I completed for this module. That's the beauty of taking these bespoke optional modules, as, if you are lucky, you'll be choose an area that really sparks your interest and can help to guide you throughout the remainder of your university career.
I personally found the jump between A level to degree level History to be quite significant, purely based on the fact that so much more is expected of you within your academic writing. Throughout your A Levels, you are often tasked with remembering a lot of facts and reiterating them within an essay form. Whereas at University, you not only have to plough through numerous historical texts to find many of the facts for yourself, but you then have to comprehend what the key academics are arguing and, more importantly, argue your own point of view. In order to do well in History at degree level, you must have your own opinions. Throughout your entire university career, your seminar tutors and lecturers will be preparing you with all the tools and skills that you need to become true historians.
The most challenging aspect of studying History was certainly making the jump from A level to degree. It took me a while to understand what was expected of me within academic essays. However, I got around this by using all the resources available to me. The Bank of assessed work is very useful, as it allows you to go and read essays that previous students have completed, within all the different modules that you will complete throughout your degree. Spending some time to go through someone else's work, can really help to begin to understand how your essays should be structured and how much information and analysis should go into each. I also find it very helpful being able to go to tutor's office hours, to discuss my ideas for particular essays. Each week, every History Department tutor at the university will set around 2 hours aside, so students can drop in and discuss anything history or university related. I urge you all to make the most of this! Tutors have their office hours for a reason. They enjoy talking about History with their students, so your best bet is to bounce your ideas off them for your essays. However, if you feel a bit daunted about going to them straight away, you could always have a brainstorming session with some people on your course, to help get the creative juices flowing.
One of the biggest highlights for me has been being able to meet so many like-minded individuals. History is a fascinating subject to study and, therefore, you will have the opportunity to have so many interesting conversations with lots of different people. It's an extremely popular course, which means that with every new seminar group you are in, you are likely to meet a whole new group of people.
As I am in my final year, I'm currently in the process of writing my dissertation. As mentioned earlier, I was inspired by an essay that I completed for my Gender and Sexuality module that I undertook in second year. This has encouraged me to centre my dissertation around a period in history called The Feminist Sex Wars. These debates occurred between American feminists, in the late 1970s to the early 1980s and continue to influence feminist opinion today.
I would very much like to go into social media and marketing after I finish university. Over the past year I have taken on many opportunities that have allowed me to gain experience in creating digital content, in a variety of forms. I will be taking a year out after University and plan to use my time to look into a range of graduate jobs within my chosen field.
In my free time I run my own Instagram account, whereby I produce short histories of notable women throughout history - all fully referenced using academic texts. This gives me the chance to practice creating digital content, whilst also using the skills that I have acquired from my degree. For the past 3 years I have also been a member of the History Society, going on to become a member of committee in my final year. The Society is a great way to meet people from your course, across all different year groups. It is also a fun way to meet people who are just generally interested in history and with a number of different socials, it's a great opportunity to make some more friends. This year, I'm the Netball Secretary for the History Society, which allows me to bring my love of sport and exercise to the Society. This is a fantastic way for people to keep active in a very calm and relaxed environment, whilst also giving you the opportunity to exercise in a social manner.
My favourite thing about my course is that the department really encourages you to seek out where your interests lie, allowing you to discover your niche area of history. Given the number of staff that are in the department, you would be hard pushed to come to them with an area of history and there not at least be one person who specialises in it or has a particular interest in that time period.