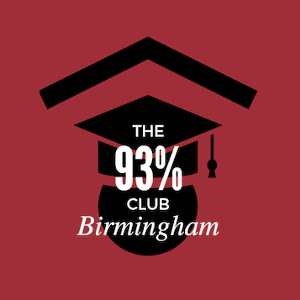 In the midst of what has been an extraordinary year for all the wrong reasons, we managed to kickstart an amazing initiative that has, a year later, gone on to impact so many state school students.
The 93% Club Birmingham started as a prospective idea that myself and Co-Founder, Abbie Bauckham, began to explore. We evaluated our own experiences as state school students attending the University of Birmingham and how we could both relate to feeling somewhat out of place and often lost in how to navigate this journey. The 93% Club was a bold and unfamiliar approach to escaping our state school career projections; we wanted to help students who don't have a professional parent, sibling, or anyone who could give them career guidance. Essentially, we wanted to play that role in each students' life and transform their confidence, ambitions and eventually their career prospects. As I said, this was bold but we really felt we had started something that would benefit a lot of students and ultimately develop us as individuals.
This year we have hosted industry-tailored events giving invaluable insight into careers including law and engineering and how to perfect that all too intimidating application process. We ran a flagship 'Employability Week', where the 93% Club Birmingham partnered with more than 40 other universities to deliver a fantastic week of fun-filled, yet informative sessions to bolster the CVs of our members. That's the great thing about the 93% Club, you join a group of likeminded students from a similar background who have great ambitions. I'm a strong believer in the phrase 'you're a product of your environment' – this is the kind of environment which acknowledges you've had to work that much harder to get where you are right now and you've got the right work-ethic, a defiant resilience and lofty ambitions to get that much further in your own journey.
When you join the 93% Club Birmingham, you become part of a community of 'firsts': the first to attend university from your family, the first to perhaps attend a Russel Group. We hope that with our help, you can become the first to go get that graduate scheme, that training contract, or whatever else you set your sights on.
It was amazing the see the 93% Club recognised at the EPS Societies' Awards, having been shortlisted for the prestigious 'Head of College Idea of the Year' award! The society has been nothing short of amazing to lead this past year; I have now graduated but the 93% Club mission continues at the University of Birmingham and nationally. I look forward to hearing even more stories of another state school student who has defied expectations, hopefully that story is yours!
From myself and all of the members at the 93% Club Birmingham, we look forward to helping you navigate what is hopefully the most incredible years at university!
#StateSchoolProud
Nazibur Rahman
Co-Founder of the 93% Club Birmingham
To find out more about The 93% Club visit their society website.
There are 41 student groups in the College of Engineering and Physical Sciences. To learn more about their projects and activities head to the EPS Societies homepage.