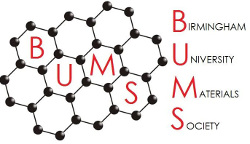 After a year of social isolation, boredom and an empty materials department...we're back!
It has been an absolute pleasure to run the Birmingham University Materials Society this semester, as we invite students and staff back together for socials, career activities and sports. I'd like to start by thanking the entire BUMS committee and the School of Metallurgy and Materials community for your engagement and support so far.
We started the year with a Family Scheme icebreaker which brought the 1st year students into the School for a general knowledge quiz alongside parents from senior year groups. This first small event back sowed the seeds for departmental relationships which have acted as friendly faces and points of contact via the Family Scheme as the new cohort adjusts to university life.
The infamous BUMS vs NucSoc club night, our first major social event of the year, featured AeroSoc as guests for the first time ever! Despite our long-fought rivalry (friendly of course!), an alliance has developed between Met & Mat's societies... Since everyone knows BUMS rule the roost, we might as well benefit from shared socials and greater turnout. The night began in the Duck and Scholar on The Vale, where chants of 'NucSoc, PoopSoc' kept Shackleton residents distracted from their studies, loudly rivalled by the reciprocated (and strongly debated!) 'NucSoc, best soc' I should add. On to Pryzm, where many BUMS/NucSoc/AeroSoc t-shirts were ripped apart as society allegiances were eroded through the night – all in jest I promise. A strong start for our most popular event as we begin to plan Round 2...
Taking a second to relax, a civilised night of board gaming at Chance & Counters in Digbeth was organised. Unfortunately, a combination of deadline season and an apparent apathy towards activities not involving tensile testing led to a turnout of just one non-committee member. Great times were had by all regardless, and at least AJ is in our good books now!
Throughout the semester, BUMS FC have been waging war in the Thursday 6-a-side Campus League. With a smattering of experience from the 125 Teignmouth Road boys joined by footballing heroes across courses and year groups, the squad banked a solid season of 1-0 victories, undermined somewhat by a couple of horrendous losses and some new enemies (but we won't talk about that!). We were hugely unfortunate to end the semester in 4th place out of 10 on goal difference – rest up team, the title race begins again in the new year.
It's not all just fun and games, we do have a serious side too... Our careers event closed the lid on zoom meetings and filled the Met & Mat foyer with stands of employers ranging from patent lawyers Withers and Rodgers, to HSBC and the Institute of Materials, Minerals and Mining (IoM3). Talks from alumni in industry illuminated the myriad career paths of our graduates and their application of transferable skills learned at university.
As the nights drew in, the return of festive socials heralded Dr Stephen Kukureka's triumphant return as gowned, mortar-boarded quizmaster extraordinaire. Featuring rounds such as 'Guess this UK Attraction from its 1-Star TripAdvisor review' and 'Guess the Met & Mat staff baby pictures', the quiz was a jovial celebration of the cozy familiarity we are so grateful for in this department. Unfortunately, a NucSoc team saw straight through my devious question writing and scored near full marks, winning a (grudging) round of drinks at the following evening's Christmas meal.
Speaking of the Christmas meal, it couldn't start until the sharpest minds in Met & Mat (the BUMS, NucSoc and Aero committees) had, while attempting to heat up mulled wine in a kettle, spilled said beverage on the floor not once, not twice, but three times. Despite a ~60% yield per bottle, guests enjoyed a festive pre-drinks before heading to the Bristol Pear for dinner. Unbeknownst to us, we had been upgraded to the private function room upstairs and after we managed to get them to turn the football off and play some Michael Bublé instead of R&B Classics, we enjoyed a very merry evening of food and drink.
The semester was bookended by a fantastic IoM3 event at Met & Mat, the Future Materials Conference. While the event mainly featured talks from PhD students and young professionals, it was great to see some BUMS undergraduates networking. Successive careers events and BUMS work will underline the value of attending these events early in an academic careers to build connections and understanding of the breadth of research our discipline provides.
As we head into the Christmas break, I feel delighted and privileged to be surrounded by such a dedicated, passionate and welcoming course community, whose members' common interest continues to foster new relationships, experiences and university memories.
We are thoroughly looking forward to next term when students can get their hands on Society merchandise (check our Facebook page for hoodie pre-orders), attend BUMS vs NucSoc vs AeroSoc 2.0, more sober socials and the much-anticipated Materials Ball.
Thank you again to everyone who has engaged with BUMS this term – anyone who hasn't been involved yet and has any requests/suggestions for socials or activities going forwards, please do get in touch and we can plan some new events. I hope you all enjoy your break, and I look forward to meeting even more of you next semester.
BUMS love,
Alex Dhesi
President, Birmingham University Materials Society (BUMS)
To find out more about the Materials Society visit their society website.
There are 41 student groups in the College of Engineering and Physical Sciences. To learn more about their projects and activities head to the EPS Societies homepage.