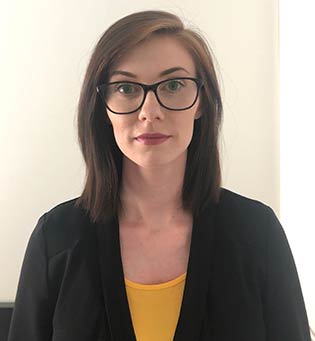 To mark Sign Language Week here in the UK (15-21 March), Marie Skłodowska Curie Individual Fellow Gearóidín McEvoy writes about her new research project, due to begin in September 2021 under Professor Karen McAuliffe, which will investigate the legal recognition of Sign Languages across three European jurisdictions.
Written by Gearóidín McEvoy
Under the guidance of Professor Karen McAuliffe, I will be carrying out research dedicated to investigating how Deaf people in three jurisdictions (UK, Ireland, and Finland) experience legal recognition of their Sign Language. The research asks how Deaf Communities and Deaf people are impacted by legal recognition granted to sign languages. The aim is to investigate, through interviews with Deaf people and Deaf Organisations, how their lives and communities have been impacted by laws which provide legal recognition to Sign Languages.
The research will span three countries: Finland, Ireland and the United Kingdom. I have chosen these countries, as all three jurisdictions have introduced legislative legal recognition for Sign Languages. Sign Language in Finland was constitutionally recognised in 1995 and again in 1999, and Finnish Sign Language (FinnSL) and Finnish-Swedish Sign Language (FinnSSL) were legislatively recognised in 2015; Irish Sign Language (ISL) was granted legislative recognition in 2017; and British Sign Language (BSL) has been recognised in Scotland since 2015. Additionally, Ireland and the UK have a connected and intertwined legal, political and social history. Both are common law countries and there is a particular connection between Northern Ireland and Ireland in terms of Sign Language usage in that both BSL and ISL are used there. Ireland and Finland have a similar political and legal history, and in particular, both recognise a minority language (Irish and Swedish respectively) as an official language at constitutional level. All three countries have significant minority language groups which have battled for legal recognition. Finally, all three jurisdictions have active Deaf Communities who have been at the forefront of legal recognition of their respective Sign Languages.
The research plan itself is threefold:
First, I will map the current status of the legal recognition of Sign Languages in each jurisdiction. This will include detailed analysis of the relevant laws, and comparison with the legal recognition of other languages in those jurisdictions, to understand what rights and duties flow from the legal recognition.
Secondly, I plan to conduct interviews with Deaf people and Deaf-led Organisations which advocate for the interests of Deaf people. The goal of these interviews is to investigate how Deaf people are actually experiencing legal recognition of Sign Language, and the impact that legal recognition has had or currently has on those Deaf communities. The aim is to analyse this data and tease out what measures are effective and what measures are ineffective to provide rights for Deaf people and communities.
The final step of this project is to create a roadmap for the most effective ways to implement actual and realisable rights for Deaf people and Sign Language users through Sign Language recognition.
This roadmap will aid activist groups, policymakers and legislators in introducing or amending legal recognition for sign language, ensuring the mechanisms they introduce in legislation are actually effective and provide realisable right to Deaf people and communities. This roadmap will be informed by the experiences of Deaf people and Deaf-led Organisations and present real data on what does and does not work for Deaf people and sign language users.
Throughout the project, I intend to ensure that we are providing regular updates and communicating our research, in particular to Deaf communities. In that vein, we will be providing regular blog posts, vlogs and videoed podcasts with closed captions and Sign Language (BSL, ISL and FinnSL) interpretation to ensure the communities we are researching are able to access and benefit from the research that we are conducting. I am dedicated to ensuring that this research amplifies the experiences of Deaf people and Deaf Communities and that it becomes a useful resource for Deaf-led activism and lobbying in the future.
I am extremely grateful to the University of Birmingham community who have all showed great enthusiasm for this project and been extremely welcoming to me. I look forward to starting this research and working closely with Deaf Communities towards a goal of ensuring equality of culture and language.