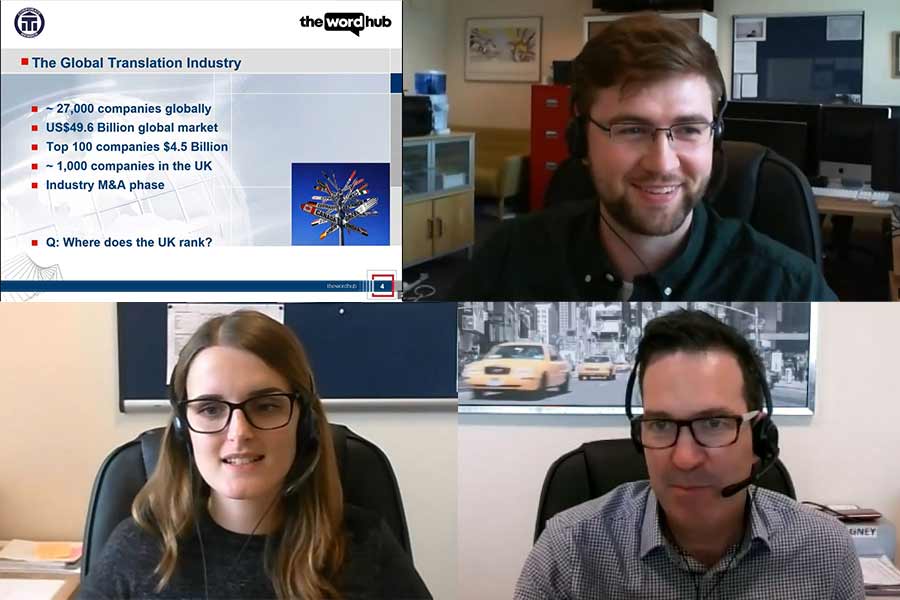 Earlier this summer, students in the Department of Modern Languages were treated to a careers talk with The Word Hub, a language service provider specialising in technical translation and localisation.
The event, held on the 30 June, was attended by students from the MA in Translation Studies and the BA Modern Languages programmes within the Department.
Careers sessions like these aim to give students an insight into specialisms within the language services industry, as well as up-to-date knowledge of the sector. Topics included what a typical day might involve for a project manager, CAT tools (translation software) and training opportunities.
The speakers, who joined via zoom, included Darren Verdi-Ashton, Sarah Horne and former University of Birmingham student and now part of The Word Hub team, Alexander Caves. Alexander completed his BA Modern Languages degree in French, German, and Russian in 2019 before also completing his MA Translation Studies programme with UoB in 2020.
One of our current MA Translation Studies students commented "I think it was really valuable generally to hear from a language service provider, particularly one that has employed a recent graduate, as that gave me some insight into something I could do with my MA. I also found it useful to hear about the challenges in the sector from a direct, real-time perspective, and about how the organisation operates in the context of their technical specialties."
One of our first year BA Modern Languages students added "I don't think I had fully appreciated the need for translators and project managers to be quite so adept with technology, word processing and other programmes such as InDesign. Gaining better knowledge of how to use and make the most of this software will be vital if I become a translator, to make the transition as smooth as possible.
"I think one of the other main things that I found surprising was the fact that the UK is a very good place to work as a translator. The fact that there is still a demand for translators (and this seems to be increasing) was also really reassuring."
Finally, one of our second year BA Modern Languages students commented "The day-to-day outline that they presented was eye-opening: I always imagined that a person working at a translation firm would work on one project, themselves, one at a time, and go through it methodically and carefully (as we do with our work here). Seeing the different jobs that people do throughout the day, and the different levels or depths of translation that they offer depending on the brief was very interesting.
"The numbers on the size of the translation industry were impressive, and the fact that the staff sometimes use machine translation, but then tweak it themselves to be more accurate, is a good sign that human effort is still needed in translation, as many people like to say that this job 'could easily just be done by Google translate'. A silly idea, I know, and one I was happy to see proven wrong in the talk.
"The talk certainly opened my eyes and gave me a clearer and more detailed insight into the world of translation. I'm not sure whether I would want to go into this type of translation, or whether interpreting or subtitling may be more appealing, but I certainly have more information to help me make that choice."
Current students and staff can watch the event again on Panopto.