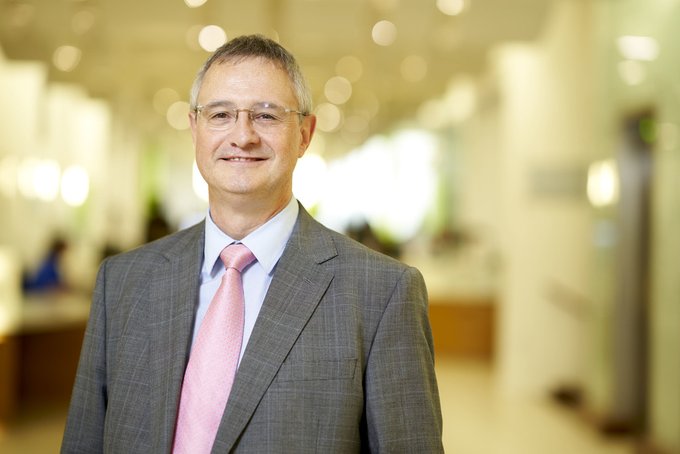 The brain tumour centre at Birmingham Health Partners founder-member University Hospitals Birmingham NHS Foundation Trust (UHB) has been recognised as a Tessa Jowell Centre of Excellence following rigorous expert-led assessments by the Tessa Jowell Brain Cancer Mission.
With more than 12,000 people diagnosed every year with a primary brain tumour in the UK, and 300 new patients seeking treatment at UHB, the award has been introduced to recognise hospitals for their excellence in patient care. It represents a step change in the neuro-oncology landscape across the UK.
UHB was measured on a range of criteria, including its excellent clinical practice and training opportunities; emphasis on patient quality of life; providing clinical trials and offering a high standard of research opportunities. Led by a committee of experts in the field and virtual site visits, the assessments were backed up by patient feedback about the care they received. It is one of nine hospitals across the UK to receive the recognition.
At least 88,000 British people are currently living with a brain tumour but over 5,000 people a year will lose their lives to it. The "Excellence" status provides reassurance about the availability of excellent care within the NHS and positive recognition for its staff at UHB who, despite the challenges of the Covid-19 pandemic, continue to go above and beyond for their patients. Due to the strain COVID-19 has placed on the NHS, UHB's brain tumour centre now offers virtual clinics for patients.
Founded to design a new national strategy for brain tumours, the Tessa Jowell Brain Cancer Mission (TJBCM) is committed to helping as many hospitals as possible achieve the 'excellence' status in the future. To achieve this, the mission is launching the Tessa Jowell Academy, a national platform allowing hospitals to share best-practice to improve their services, as well as one-year fellowships for doctors to further specialise in brain tumours.
Jess Mills, Co-Founder of TJBCM and Tessa's daughter, said: "Mum's mission throughout 50 years of her political life was to tackle systemic inequality. So, it was tragic whilst fitting, that her final campaign was a call to arms to create universal equality in access to excellence in cancer care throughout the NHS. It is with immeasurable pride that just three years later, TJBCM has begun the real-world translation of that vision into reality.
"We are thrilled to have awarded UHB for its excellent ongoing work for patients and commitment to support other centres in reaching the same level of Excellence. Shockingly, the UK still has one of the worst cancer survival rates in Europe, but in time, the Tessa Jowell Centres will make the UK a global leader in the treatment and care of brain tumour patients. We have a long way to go until the cutting edge of science is delivered to every patient, but this is a huge and transformational first step."
Colin Watts, Professor of Neurosurgery at the University of Birmingham and Honorary Consultant Neurosurgeon at UHB, said: "We are delighted that our model of patient-centred, consultant-led, research-orientated care for brain cancer patients has been recognised in this way. This award is a tribute to the whole multidisciplinary team who put patients at the centre of everything they do and take real pride in delivering best practice for everyone.
"It is a privilege to be given this status from TJBCM partner organisations and we are very proud to affiliate ourselves with this recognition. We have worked hard as a team over the years to develop and improve patient care and will always strive to make a difference wherever possible. We will continue this process collaboratively by sharing and developing best practice within our service, externally and between other service providers for this cohort of patients."
Claire Goddard, Macmillan Clinical Nurse Specialist in neuro-oncology at UHB, said: "We look forward to supporting the TJBCM in its aim to promote excellence in care for brain tumour patients and assisting the Tessa Jowell Academy in disseminating evidence of great practice. No one unit gets everything right all the time so we know there is a lot we can learn and hopefully help other units too."
Cally Palmer, NHS England National Cancer Director, said: "This award is a fitting tribute to Tessa Jowell and her dedication to excellence in cancer care, as well as to all the NHS staff who have worked tirelessly throughout the pandemic to continue to provide life-saving cancer services, and it is great to see NHS hospitals across the country being recognised as centres of excellence. NHS services are open and ready to help those who need cancer care, and I encourage anyone who is experiencing any worrying symptoms to contact their GP immediately to improve chances of a successful recovery."