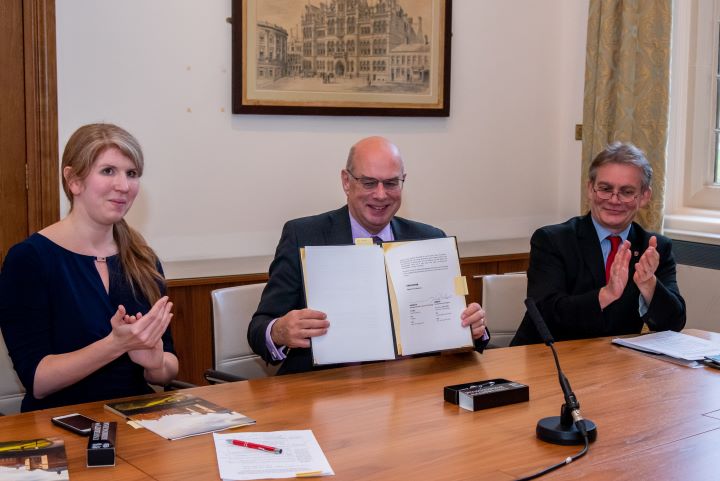 The University of Birmingham and Huazhong University of Science and Technology (HUST) have signed a 'Key Partner' agreement that paves the way for a considerable growth in their collaborations in both teaching and research, building on a long-standing engagement that spans almost two decades.
University of Birmingham Vice Chancellor Professor Sir David Eastwood and HUST President Professor Zheng YOU signed the Key Partner agreement in a special online signing ceremony.
Importantly, a focus for expansion of the two universities' collaboration involves colleagues in the respective medical schools, namely the College of Medical and Dental Sciences in Birmingham and Tongji Medical College in Wuhan, who are exploring how they may join forces to deliver biomedical science education.
Reflecting the firm links around biomedical science, the two university leaders also signed renewals of Memoranda of Understanding (MoU) in both Dentistry and Nursing, which will underpin shared continued joint research and teaching developments.
HUST also conferred the award of Guest Professor on Professor Chris Tselepis, Head of the School of Biomedical Sciences at the University of Birmingham, reflecting his leading role in shaping the biomedical sciences degree programmes at Birmingham as well as his work with HUST colleagues in establishing joint education and exchange opportunities.
Professor Sir David Eastwood commented: "The University of Birmingham already enjoys a close collaboration with HUST and we believe that establishing a joint degree education platform will enrich biomedical education in both of our institutions and will help foster even more high-quality research links that can have impact around the world.
"It is clear that both our universities have a strong belief in a partnership established on the basis of excellence, sound collaboration, mutual respect, and lasting friendship.
"We look forward to progressing our partnership and providing another exciting opportunity for our students and academics to collaborate with peers from across the globe."
Professor Zheng YOU commented: "The HUST-University of Birmingham partnership has been a long-lasting and robust one, underpinned by student mobility, faculty exchange as well as pragmatic research collaboration.
"The signing of the Key Partnership Agreement between HUST and the University of Birmingham is going to be epoch-making for our collaboration and partnership, which I am sure will continue to thrive and flourish in the many years to come."
The University of Birmingham's links with HUST stretch back to 2003, with the launch of 2+2 and 3+2 articulation programmes in engineering disciplines and biosciences. Over 500 HUST students have benefited from these degree programmes, which in some years saw more than 50 students coming to Birmingham.
In 2006, the HUST School of Material Sciences and the University of Birmingham School of Metallurgy and Materials, established a joint laboratory to conduct research on advanced materials and shaping technologies.
Supported by HUST, the University of Birmingham held a 'UoB@HUST Day' in 2016 on the HUST campus in Wuhan, when more than 20 Birmingham academics from different fields and helped facilitate new areas for collaboration, including the development of a broad range of engagements between Tongji Medical College and the College of Medical and Dental Sciences, in Birmingham.