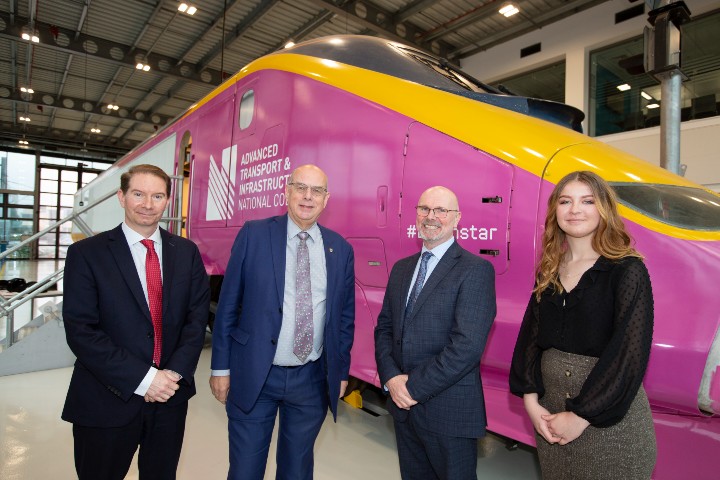 The National College for Advanced Transport & Infrastructure (NCATI) is hosting launch events at its campuses in Birmingham and Doncaster to mark its new collaboration with the University, and the opportunities this will bring for the rail sector.
Having joined the University of Birmingham family in April 2021, the new National College will be officially launched at its Birmingham and Doncaster campuses.
NCATI's Principal, Ian Fitzpatrick, has invited business and academic leaders from across the rail and engineering sectors to come together to celebrate this collaboration, and to learn more about the College's refreshed vision and ambitious plans for growth.
Speaking about the upcoming launch events, Ian said: 'This will be a great opportunity to demonstrate what is truly 'new' about the National College, from the development of a hub and spoke model with key education partners across the UK, to a much broader curriculum – which for the first time will be opened up to 16-18 year-olds. These changes will enable us to better fulfil the needs of learners and employers within the sector – and have been made possible by drawing on the University's internationally-recognised rail expertise.'
Heralding an unprecedented level of collaboration between a Russell Group higher education provider and a further education college, the launch events will focus on demonstrating new developments in the following areas:
People
Partnerships
Curriculum
Quality
Professor Tim Jones, Provost and Vice-Principal at the University of Birmingham, said: 'We're looking forward to working closely with the new College to support access to first class training, skills and opportunities to new generations of workers joining the rail and infrastructure industries. The University of Birmingham's global reputation in railway research and education and its deep-rooted industry links offer extensive opportunities to address skills gaps and contribute to regional and national growth."
For media enquiries please contact Sarah Moran, Marketing & Communications, NCATI.
NCATI background
The National College for Advanced Transport & Infrastructure (NCATI) is an employer-led Further Education college and a subsidiary of the University of Birmingham. NCATI has been established to provide inclusive and high-quality vocational training that meets the needs of learners, industry partners and local communities, supporting local, regional and national economic growth. Providing aspiring engineers and apprentices with the specialist skills required to deliver HS2 and other world-class infrastructure projects, NCATI works collaboratively with the University of Birmingham to provide a lifelong learning opportunity supported by railway, transport and infrastructure qualifications and competencies.
NCATI is a new institution, replacing the Further Education Corporation of The National College for Advanced Transport and Infrastructure, which dissolved on 29 April 2021.
About the University of Birmingham
The University of Birmingham is ranked amongst the world's top 100 institutions, bringing people from across the world to Birmingham, including researchers, teachers and more than 6,500 international students from over 150 countries.
In the specific area of railway engineering and operations, which is at the heart of NCATI, the University is by far the largest provider of Level 6 and Level 7 education, with over 550 students registered in the UK and Singapore.
Incorporating NCATI into the wider University of Birmingham Group will ensure the National College is able to provide opportunities to the greatest possible number of local residents with routes into further education and work. Key to this is the College's burgeoning hub and spoke model which will enable high quality education to be delivered in collaboration with local partners throughout the UK.