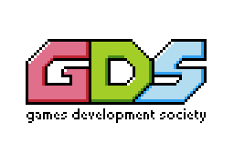 At GDS we have had an exciting term. Not only we have seen more attendees than ever at our weekly meetups, but we have been able to encourage more people to uncover the secrets of developing a game with our tutorial program and competitions.
We have had a higher attendance by first and second-year students who wanted to explore the world of games development in-depth. Because of that we dedicated the first few of our weekly meetings to a series of beginner-friendly tutorials with the Godot Game Engine, where we guided everyone through programming simple arcade games such as Breakout or Pong. We introduced how the editor we chose works and how a single project must be structured. There were challenges beyond the scope of the tutorial for everyone interested in learning more. As the tutorials progressed, we introduced more complex concepts and finished the last tutorial with a small quiz to test everyone's knowledge.
Later, to put that recently acquired knowledge into practice, we brought back the Fall-O-Ween Game Jam where we got everyone to make a video game from scratch in week following a given theme. Like in previous years, our members proved their creativity and dedication by introducing new and interesting ideas in the games they submitted. If you'd like to give it a go and play their games, you can find all the entries here: https://itch.io/jam/fall-o-ween-game-jam-2021
It does not end there! We have been more than pleased to see more potential games – even some in Virtual Reality – that our members are working on during their free time. We have play-tested them together, and discussed their strengths and weaknesses for their future improvement. As of writing this, we are currently participating in a hackathon for games organized by the Tezos community where we will see some of these games published soon.
If you like what you're reading you can join us now on our Discord. Here you can learn more about games development and conquer the competitive world. We are looking forward to the second term when we will continue our journey in making games together and have more social events such as the Pizza Night and the Karaoke we held at the end of the term.
Happy Holidays! See you!
Stanimir Velichkov
Chair, Games Development Society
To find out more about the Games Development Society visit their society website.
There are 41 student groups associated with the College of Engineering and Physical Sciences. To learn more about their projects and activities head to the EPS Societies homepage.