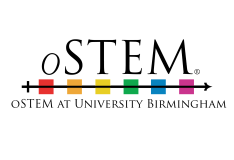 It's been an exciting term for oSTEM! We've been hard at work this term pivoting the society back to running in-person after a year of exclusively online events.
This term saw the return of our weekly coffee socials in the Metallurgy and Materials Building. These provide a safe space for our members to socialise with other LGBTQ+ students while enjoying some refreshments. It's been great to see oSTEM back in its usual venue with both old and new faces! We also celebrated our sixth birthday!
We've also continued to use our Discord server throughout the term. This space was created to facilitate virtual event hosting last year, and has continued to be a great space for our members to socialise outside of events. The server is jointly owned by us and oSTEM UK Professionals and Postgraduates, and so helps to build stronger links between the two societies.
In November, we held a speaker event for LGBTQ+ STEM day! The format of the event was a panel discussion where our speakers shared their experiences as an LGBTQ+ person working in STEM. We had three excellent guest speakers for this event who provided a fascinating range of perspectives: Nikita Harvey, an NMR technician at the National Phenome Centre at Imperial College London; Harriet Brown, a software scientist at STFC; and Avery Cunningham, a Masters student in Nuclear Decommissioning and Waste Management and a previous Chair of oSTEM Birmingham. Despite some technical difficulties, the event was a great success with excellent engagement from attendees and thoughtful discussion from our panellists.
To finish off the term, oSTEM had two special weekly socials! First up, the Winter Quiz, where each committee member hosted a round on a topic of their choice. This led to a fun variety of subjects ranging from conventional options like the music round, to more out there ideas such as the lettuce round.
Secondly, we had a games night on our Discord as part of our final weekly social of 2021. This was a great chance for everyone to unwind after a difficult term. We played a Pictionary style game, which gave everyone a chance to flex their art skills with the odd prompts we came up with for each other!
All in all it's been a great semester for oSTEM, getting back into the rhythm of in-person coffee socials again and running a semester one speaker event again for the first time in several years. As chair, I'm very proud of the work the rest of the committee has done, especially considering some of them have never even attended in-person oSTEM events before, never mind organised them!
We're looking forward to another great semester after the break – and on that note, we're excited to announce that the STEM, LGBTQ & You Conference is returning on 23 February 2022 as a hybrid event! This is an annual conference organised by both UK oSTEM chapters, and will be a day of interesting talks and discussion of the experiences of LGBTQ+ people in STEM. The event is completely free (but registration is required) and is open to everyone regardless of whether you have a STEM background or are LGBTQ+. Early bird registration is open right now, for details go to https://www.stemlgbtqyou.gay/.
Jackie
Chair of oSTEM at University Birmingham
If you would like to know more about oSTEM visit their society website.
There are 41 student groups in the College of Engineering and Physical Sciences. To learn more about their projects and activities head to the EPS Societies homepage.