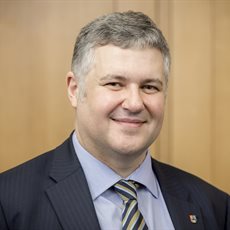 Hello!
I should begin by introducing myself…I am the Head of School of Engineering, and since Peter Gardner's retirement in April I have taken on the role of interim Head of Electronic, Electrical and Systems Engineering until a successor is found.
I've worked at Birmingham since September 1997. I started my research career at Birmingham as a Research Assistant working on condition monitoring of railway systems in the then School of Electronic and Electrical Engineering, having previously worked as a Software Engineer at Lucas Aerospace. I was promoted to be a Lecturer in 2001, Senior Research Fellow in 2007, Professor in 2009 and I became Head of the School of Engineering in January 2020. I lead our railway activity in the Birmingham Centre for Railway Research and Education (BCRRE), which is the largest group of its kind in Europe with over 180 researchers. I also lead the UK Rail Research and Innovation Network (UKRRIN, https://www.ukrrin.org.uk/), a £92M initiative to help accelerate the take up of research in the rail sector. I sit on various committees in the UK and internationally, including the UK Rail Industry Technical Leadership Group, the Advisory Board for the National Railway Museum, the Institution of Railway Signalling Engineers' Council, and the Technical Advisory Panel to the Board of SMRT in Singapore.
Peter Gardner has done a superb job as the Head of Department (and Head of School of Electronic, Electrical and Systems Engineering prior to this) over the last years. He had worked at the University for over nearly three decades and made a huge contribution to the Department through his teaching, research and various leadership roles he had held. Others who have also retired from the Department over the last year include Phil Atkins, Mike Lancaster and Dave Checketts. Together these four colleagues have provided more than 130 years of service to the University. We are currently recruiting new staff, and additionally Dr David Themens and Dr Alan Wood both joined us during this academic year.
It has been a very busy year within the Department of Electronic, Electrical and Systems Engineering. The challenges that the pandemic have provided have created significant extra work and uncertainty for staff and students, but I am very proud of the way everyone has pulled together to continue our teaching and research activities. We have been operating throughout the pandemic period, albeit with students not being able to come onto campus during the lockdown periods. Much work has been done to ensure our students continued to receive lectures online, and a number of rapid innovations were made to provide online laboratory experiences that worked rather well. When we were allowed to, we provided face-to-face labs and tutorial sessions which were very much appreciated by our students. We were delighted to be able to hold graduation celebrations for students graduating this summer, this was the first sign that things were maybe beginning to return to normal and look forward to celebrating the Class of 2020 in person in early September.
Despite the pandemic, the move to the new School of Engineering Building took place in April. The new Building is superb, and we hope you will find an excuse to come and visit us on campus in the near future. We have now completely moved out of the Gisbert Kapp Building apart from two areas – the roof lab area continues to be used for radar research with a new quantum radar being installed this year, and we will also continue to use the tank lab in the building's basement for underwater communications and sensing research. In addition to the School of Engineering Building, the new UKRRIN Building has also opened and we were pleased welcome Andrew Stephenson MP and HS2 Minister on to campus for the opening in June.
Our core areas of research continue to grow, but we have also seen new areas of activity such as work in space weather, hydrogen propulsion systems for trains and the use of quantum technology for a range of applications from radar to positioning of vehicles.
As well as the successes of our staff and students I must add a big thank you to the contribution that the Department's alumni have made over the last academic year. Contributions have included providing guest lectures, sitting on our advisory boards, supporting final year projects and mentoring students. Thank you, you've made a real impact here! If you'd like to get involved too, please get in touch with our Alumni Relations Manager, Grace Surman on eps-community@contacts.bham.ac.uk.
Finally, it's my privilege to introduce the latest edition of the Department of Electronic, Electrical and Systems newsletter, in which you will be able to read about the work we have being doing over the last year.
With very best wishes
Clive Roberts
Head of School of Engineering
Professor of Railway Systems
Read the 2021 EESE Alumni Newsletter here.