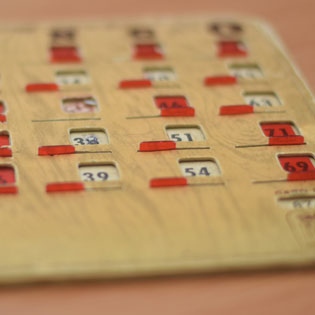 Regulation and Resistance in Canadian Bingo: A Socio-Legal Account.
Kate Bedford, University of Birmingham.
0000-0001-9204-2352
Bingo - a lottery style game popular in many parts of the world - is intriguing to study. In many places it is associated with self-organized mutual aid and charitable fundraising as much as, if not more than, commercial gambling. It is one of the few forms of gambling that attracts more female than male players; it is popular with older, working class women, and Indigenous women, in particular. In Canada, bingo is played in a highly distinctive law and policy environment that is now being subjected to more standardised rules, often drawn from casinos. In this article, I consider how workers and players in Canadian bingo halls are affected by shifting landscapes of provincial bingo regulation. By exploring smoking bans, and new rules on touching cash, I seek to learn more about how people are interacting with gambling law at the everyday level.
I argue that smoking bans have significantly altered players' sense of ownership of bingo halls in Canada. The drop in business caused by provincial smoking bans has led to key changes in how bingo is played, in the side games run alongside it, and in the regulatory approach to bingo. Automated gambling forms have proliferated in halls as a result. Notoriously stubborn bingo 'regulars,' who act like they own the place, are being replaced by gambling machines, and the slots players who are drawn to them.
In the second example in the article, I explore how requirements to show 'clean hands' after touching cash have been received by workers and players. These rules were cut and paste from casinos into bingo halls. They reshape the familiar, close nature of connection between players and employees characteristic of bingo environments in Canada, and they are highly contentious. They distance players from staff, by professionalizing contact and increasing surveillance of touch. They also violate norms of trust that are fundamental to players' sense of belonging, and to many employees' enjoyment of the work. I examine how these new casino-based rules have been resisted and mocked, sharing stories intended to register a bingo-based defiance.
In general, I argue that the diverse meanings of gambling are under threat from regulatory homogenization, specifically from the spread of rules anchored in large-scale, profit-making play experiences. Regulations play a key role in restructuring gambling environments in more automated, standardized directions, where the diverse meanings of gambling are narrowed. Mutual aid practices and trust are decentered, player senses of co-ownership are interrupted, and the efficient extraction of profit is maximized.
Department/Institute/Centre
Full cite: Kate Bedford. 2018. Regulation and Resistance in Canadian Bingo: A Socio-Legal Account. Journal of Law and Social Policy 30: 11-35