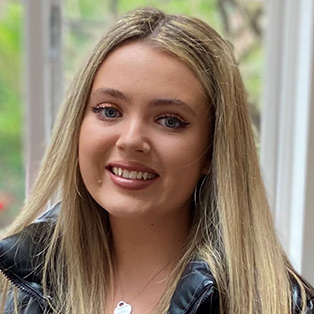 In her latest blog post, BA History student Mia Fitzgerald tells us about her favourite modules and the subjects she enjoys studying the most.
I can safely say that so far, I have really enjoyed studying history at university. I will admit, sometimes it's easy to get overwhelmed by the workload and forget to genuinely enjoy your subject. But, I feel that it's important to take a step back every once in a while and reflect on what really engages you. You will definitely get more out of your degree if you see it as an opportunity to learn more, as opposed to a chore.
With that in mind, there are many aspects of my history course that I enjoy. However, if I were to narrow it down, my favourite thing would have to be the optional modules I have chosen this year. The autumn option I chose was '1619 and the Making of America', and my spring option has been 'A Global History of Gender and Sexuality'. Both options have been a highlight for me, as the wide range of choices meant that I could study something which I was genuinely interested in. This has really helped me to enjoy the content rather than seeing it as a burden.
Through my 1619 module, I learned all about the '1619 project', which aims to readdress America's history and founding ideals, tracing it back to when the first slaves arrived from Africa. Through this, we looked at how modern-day capitalism, politics, healthcare, mobility etc. has all been shaped by the experience of African Americans, which I found to be extremely eye opening and current.
In my gender and sexuality module, we studied various places across a large time span, looking at moments in history which have been important in shaping ideas about both gender and sexuality. This module has been particularly insightful for me in studying places I hadn't before, such as medieval China or 20th century Ireland and Brazil. It has even somewhat inspired my dissertation idea, where I'll be looking at women's/gender history in post war America through the lens of beauty and advertising.
I hope to continue learning more and widening my horizons in final year. In particular, I am really looking forward to exploring my dissertation topic more and really specialising in my chosen area. I really feel that there is so much to enjoy about a history degree, and so many different routes you can go down with what you want to learn. Just remember to try and enjoy it as best you can - it will make your life a lot easier!