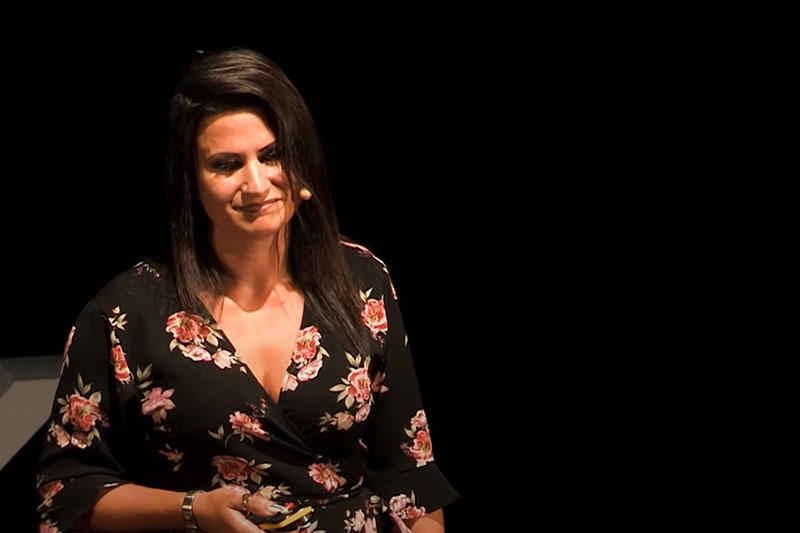 Dr Sophie King-Hill talks about how she got into sex education teaching and research, and the process of turning that research into an effective TEDx Talk.
Working with teenage parents
My journey is a combination of both personal and professional elements. I have four children. While I was pregnant with the first, I worked in youth services. Being pregnant I made the association between youth and pregnancy and began working with teenaged parents. In my work I noticed that there wasn't much around for them in terms of sex and relationship education.
I started this work by submitting a proposal to a training provider. Initially, they gave me a six-month contract to test the waters, but I ended up running the courses for six years, teaching teenaged parents at level two across Birmingham and Solihull. From the hundreds of conversations we had, I realised that many of these teens did not have the key information they needed to make informed decisions about their sex lives. This was not their fault; there's a lack of ability in wider society to talk freely about sex, and also a lack of capacity in schools. When I worked in schools with children and young people (CYP), I found that not only did they want to talk about sex and relationships, but that they wanted the knowledge from valid sources.
Thinking strategically about sex and relationships education
From here, I went to Brook to teach sex and relationships in schools and was soon after promoted to their national impact coordinator. This was more strategic, looking at impact and research. In this role I began looking at assessment tools for sexual behaviour in CYP, and how harmful sexual behaviour can be assessed and the correct referrals be made.
Finding a home at HSMC
For five years, I lectured at the University of Worcester while completing my PhD research with HSMC (an evaluation of a sexual behaviour assessment tool). This is how I ended up working at HSMC, where I've continued my research; I'm now one of the leads on the Home Office-funded rape crisis work on sibling sexual abuse, designing a first point assessment tool for CYP in this position. I also have a research interest in policy and policy transfer frameworks. When it comes to sex and relationship education, children and young people deserve to have a voice.
Turning research into an effective TEDx Talk
Due to the level of interest in my area of work, I was approached by a TEDx event organiser. I had to submit an outline of what I wanted to do. In particular, my brief stated that I focus on one big idea, rather than all of my research. I picked: 'we need to talk to children and young people about sex education more.'
I went through many script drafts! I began by writing like an academic in a lecture style format, and this did not work. My next draft reworked things to suit a wider audience. You're meant to approach a TEDx Talk as a conversation with the audience, and your personality has to come through—that's where the passion for the topic lies. This isn't the way I'm used to working, so it was tricky at first.
Learning lines
I worried about learning the script, so I linked PowerPoint slides with pictures—no words—to chunks of text, which helped me remember the pattern and the order in which my points were made. By the end I could recite the whole TEDx talk without the slides. I had a number of rehearsals with the others taking part in the TEDx event, where I got chance to practise and gain feedback. I then recorded my talk on my phone and listened to it countless times to make sure it was committed to memory.
I'm not naturally a nervous person, but I was nervous! I don't have many coping strategies for this due to this being an unusual feeling for me. That said, the nerves went as soon as I was on the stage. I think the main advice I would give is to rehearse, know your lines, and be yourself. I didn't think about the cameras as this would have added additional nerves; I just trusted in the stage team as they knew what they were doing.
Connecting with audiences
I've had some great feedback on my talk, which I'm really pleased about. People liked my honesty and humour. They could see that I was passionate about the subject. Doing a TEDx talk can't be a hoop-jumping exercise – you have to really believe in what you are saying to the audience. That way, your integrity comes through.
Things still need to change
Schools are in a very difficult position at the moment. They are still picking up the pieces from pandemic closures and disruption. We expect a lot from schools; for example, with the recent spotlight on rape culture/sexual harassment in education, which I have written about. Schools are expected to lead the way in addressing the problem, yet many teachers still feel uncomfortable discussing sex education in general. They need to be able to articulate their issues. We really do need to talk about sex education and relationships with children and young people, it is vitally important.
What we need is a national, joined-up approach with local communities and resources. Sex and relationship education underpins many aspects of learning, and this needs to be recognised across the board.
Watch Dr King-Hill's TEDx Talk. She was recently interviewed in the Times Education Supplement on how sex education has changed since the 1970s.