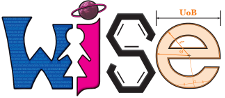 With the return to normalcy, post-lockdown and peak of the pandemic over, the committee members of WISE have been nothing short of busy!
The year was kickstarted by WISE attending the EPS Societies Fair – a wonderful opportunity for us to spread the word of our award-winning outreach scheme, Girls in STEM, with new (and old) members of the University of Birmingham! WISE, being the social butterflies' we are, added to our social media channels with a brand new TikTok page and we're so excited to use this more often for awareness of women in STEM, our upcoming events, how to get in touch with us – and maybe even go viral!
Shortly after this, the committee members took part in a VERY exciting collaboration with AstroSoc, SATNAV and PPS for World Space Week. The theme was perfect and thanks to the Chair of AstroSoc, Anwesha Sahu, we were able to promote and attend a wonderfully organized panel event called 'Blasting Off: A Panel Discussion with Women in Space and Tech', hosting a range of speakers in the space industry!
Additionally, WISE excitingly kicked off our first in-person event of the year, our first Outreach Social! This social was hosted at our local student-friendly pub, The Bristol Pear, and was designed to bring together those interested in joining our Outreach Scheme. We're so glad we got to meet so many of our (now) members and could not have asked for a better turn-out. Thank you to everyone who attended and we look forward to continuing our outreach in school's next term!
Following the success of our recruitment and bonding of the outreach team, we conducted outreach sessions in two local schools: Hillcrest School and Selly Park Girls School. Our sessions went swimmingly well and we thank all our lovely volunteers for all their hard work in putting together these STEM workshops! We'd also like to thank the school staff and the wonderful students for engaging in our material; we could not have done it without all their support!
Our next big event for the term was soon to follow. The planning of WISE Inspire, our annual Women in STEM panelist event, was on the go. Regardless of the endless meetings, stressful and nerve-wracking catering cancellations alongside gathering speakers, WISE Inspire was a huge success! We had speakers from Alloyed, Goldman Sachs and the University of Birmingham's very own Cancer and Immunology Centre share their experienced takes on what it's like being in the industry as a woman in STEM and what challenges they face daily. We'd like to thank the speakers for their hard work and commitment to making it a successful event, as well as our committee members who organized the entire setting. Thanks again to everyone who attended!
We would also like to extend a warm thanks to our sponsors so far this year – Alloyed and The Student Culture Fund – for helping us organize WISE Inspire and develop our outreach program further. WISE looks forward to all the things we have planned for next term including our Equal in STEM event in the summer. So make sure you watch this developing space!
We'd like to wish everyone a Merry Christmas and a Happy New Year from our committee! Here's a photo from our most recent Secret Santa Christmas meal during where not so few cocktails were shared. A great way to end a fantastic and busy semester for us with some laughs, yummy food and exciting presents!
Finally, I would like to add that being part of this year's committee has made my university experience far better than I would've imagined. Thank you to the girls on committee for making it so memorable so far! I can't wait to see what the new year brings us.
Alisha Dordi
WISE Secretary 2021/22
To find out more about WISE visit their society website.
There are 41 student groups in the College of Engineering and Physical Sciences. To learn more about their projects and activities head to the EPS Societies homepage.