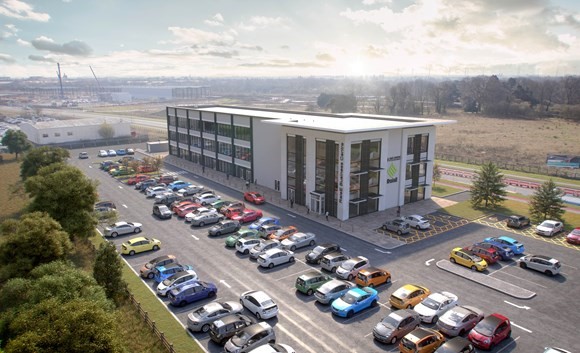 Work has started on a new multi-million-pound rail research and innovation facility on the site of Siemens Mobility's new manufacturing site in Goole, East Yorkshire.

The development will include a £50m centre of excellence developed between Siemens Mobility and the University of Birmingham.
Called the Rail, accelerator and innovation solutions hub for Enterprise (RaisE), the development will provide 3,200 square metres of commercial floor space made up of grade-A office and workshop accommodation, high quality conferencing facilities, and a communal café hub that will act as a focal point for the business park.
The first phase of the development, is being delivered by East Riding of Yorkshire Council and is expected to be completed by late 2021/early 2022.
This £8.1million project has secured £1.5m from the European Regional Development Fund (ERDF) and £1m from the Getting Building Fund, via the Hull and East Riding Local Enterprise Partnership (HEY LEP), to help finance the project.
The collaboration between Siemens Mobility and the University of Birmingham will be carried out in phase 2 of the project.
In conjunction with the £200m Siemens Mobility manufacturing facility which is currently under construction, this exciting partnership between industry, academia and the public sector will help create a 'Rail Village' concept that will attract further added value activity from the wider supply chain.
Professor Clive Roberts, professor of Railway Systems and head of the School of Engineering at the University of Birmingham, said: "We are delighted to be working with Siemens Mobility, East Riding of Yorkshire Council and the HEY LEP on this exciting initiative.
"Our involvement in this project provides the university with an opportunity to expand its reach in the area of railway innovation into the HEY LEP region, by providing a regional hub for Rail Alliance, our rail business support community.
"We look forward to working with our industry and academic partners, and Rail Alliance SME members to develop the railway supply chain in the region."
Paul Bell, head of economic development and communications at East Riding of Yorkshire Council, said: "The council is absolutely delighted to see building work on this business centre and innovation hub start.

"We know that, once completed, it will stand proudly alongside Siemens Mobility's soon-to-be-built, state-of-the-art rail manufacturing facility, and will be another glowing example of how Goole is viewed as a flourishing economic area for investment and growth.
"We also welcome our partnership with Siemens Mobility and The University of Birmingham who, along with industry partners such as The UK Rail Research & Innovation Network (UKRRIN) and The Rail Alliance, are excited by Goole's potential and our shared 'Rail Village' vision."
James Newman OBE, chair of the HEY LEP, said: "We are thrilled to support the RaisE centre in Goole through our allocation of the Government's Getting Building Fund.
"This centre will provide a fantastic opportunity for SMEs to take advantage of modern and spacious office space, tailored towards businesses in the engineering, manufacturing and rail sectors with research and development in mind.
"We hope to see businesses take advantage of this unique opportunity to utilise the high-tech facilities the RaisE centre will feature as it is vital we create the supply and innovation chain to support our large businesses in these sectors."
Sambit Banerjee, managing director, rolling stock and customer services, for Siemens Mobility Limited, said: "Our aim at Goole is to create a centre of excellence for the rail industry and to generate long-term skills and investment in the region, and the start of construction of RaisE is a real milestone in that journey.
"As part of the 'Rail Village', RaisE will be a great space for collaboration and it is fantastic to see it being supported by a network of partners from the UK rail industry and higher education – with a key focus on providing research and development support, particularly for start-ups and SMEs.
"Our team at Siemens Mobility are looking forward to moving into the top floor and working in the heart of innovation at Goole!"
About the University of Birmingham
The University of Birmingham is ranked amongst the world's top 100 institutions. Its work brings people from across the world to Birmingham, including researchers, teachers and more than 6,500 international students from over 150 countries. For media enquiries please contact Beck Lockwood, Press Office, University of Birmingham, and tel: +44 (0)781 3343348
About the Birmingham Centre for Railway Research and Education
BCRRE, is Europe's largest academic-based group delivering railway science and education. With over 145 academics, researchers and professional support staff, BCRRE provides world class research and thought leadership within railways, and offers an expanding portfolio of high-quality education programmes, including Rail and Rail Systems Level 6 and 7 degree apprenticeships. In 2018 BCRRE became lead partner in the £92m UK Rail Research and Innovation Network (UKRRIN) and in 2019 it absorbed the activities of the Rail Alliance into its offering, increasing its breadth of support for innovation and growth in the rail industry. Contact: BCRRE at railway@contacts.bham.ac.uk.For media enquiries please contact Beck Lockwood, Press Office, University of Birmingham, tel: +44 (0)781 3343348.

About The Rail Alliance
As the rail sector's largest dedicated B2B networking organisation, the Rail Alliance is all about bringing customers, suppliers and supply chain opportunities together. It is a membership organisation that sits at the very heart of the rail supply chain and has evolved as a leading representative of the UK rail supply chain community. Its broad spectrum of membership extends way beyond rail and positions the Rail Alliance as the go-to membership organisation for Business-to-Business diversity, ingenuity and innovation.