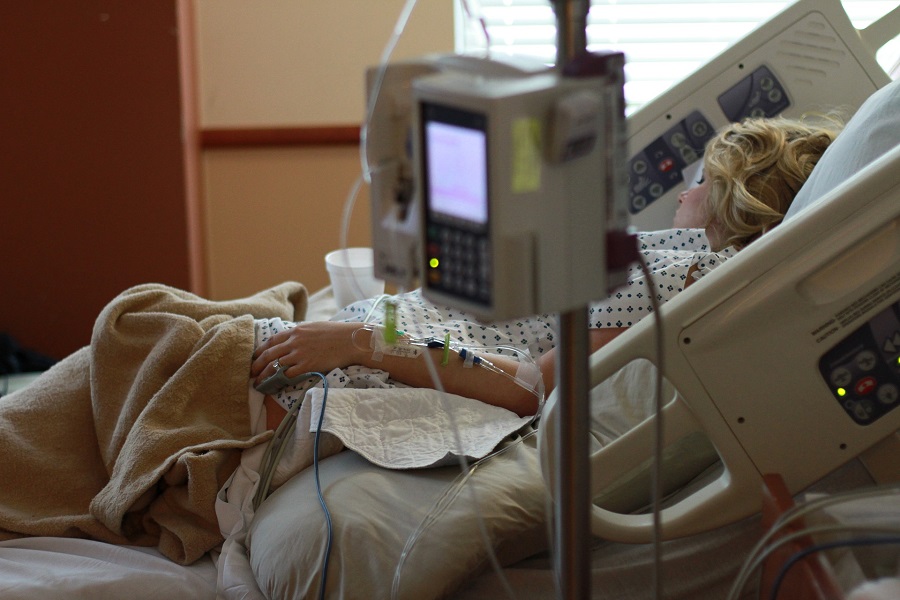 The University of Birmingham will co-ordinate a major UK trial to analyse the efficacy of cannabis-based drug Sativex in treating the most aggressive form of brain tumours.
The new phase II trial, to be funded by The Brain Tumour Charity, is to launch at 15 NHS hospitals and follows promising results from a phase I study in 27 patients. The phase II trial will assess whether adding Sativex (an oral spray containing cannabinoids THC and CBD) to chemotherapy could extend life for thousands diagnosed with a recurrent glioblastoma, which currently has an average survival of less than 10 months*.
In a phase I trial in glioblastomas earlier this year**, the drug — already used in treating multiple sclerosis — was found to be tolerable in combination with chemotherapy, with the potential to extend survival.
While the phase I study observed that more patients were alive after one year in the Sativex arm compared to the placebo arm, the study was not sufficiently powered to show survival impact.
The new three-year phase II trial (called ARISTOCRAT), led by Professor Susan Short at the University of Leeds and co-ordinated by the Cancer Research UK Clinical Trials Unit at the University of Birmingham, is due to begin recruiting over 230 patients across all UK nations in early 2022, subject to sufficient funds being raised.
Having seen its income drop by over 25% last year due to the pandemic and been forced to pause its regular research grant funding programme, The Brain Tumour Charity has today launched an appeal to raise the £450,000 needed to open the trial as soon as possible.
Experts hope that, should the trial prove successful, Sativex could represent one of the first additions to NHS treatment for glioblastoma patients since temozolomide chemotherapy in 2007.
Glioblastomas are the most common and most aggressive form of brain cancer, with around 2,200 people diagnosed each year in England alone***. They are usually fast-growing and diffuse, with poorly-defined boundaries and thread-like tendrils that extend into other parts of the brain.
Almost all glioblastomas recur even after intensive treatment including surgery, radiotherapy and chemotherapy, and average survival is just 12-18 months from first diagnosis****.
Over the last decade, there has been significant global interest within both patient and scientific communities about the activity of cannabinoids in brain tumours, with the view that cannabinoid-based products may not only help relieve symptoms but could also have a positive impact on survival.
Several pre-clinical laboratory studies***** have suggested that cannabinoids THC and CBD may reduce brain tumour cell growth and could disrupt the blood supply to tumours – however, to date, clinical evidence that they could treat brain tumours has been limited.
In this new phase II trial, researchers will assess whether adding Sativex to the current standard chemotherapy treatment (temozolomide) could offer extra time to live for adults diagnosed with a recurrence of their glioblastoma after initial treatment.
The trial plans to recruit 232 participants across a minimum of 15 hospitals******: two thirds of the participants will be given temozolomide plus Sativex, while one third will be given temozolomide plus placebo*******.
Sativex, manufactured by GW Pharma, is an oromucosal spray containing 1:1 THC (Delta-9-tetrahydrocannabinol) and CBD (cannabidiol), with the active ingredients being absorbed in the lining of the mouth, either under the tongue or inside the cheek.
Participants will be asked to administer up to 12 sprays per day (or to the maximum dose they can tolerate if fewer than 12) of Sativex or placebo oral sprays. Participants will then undergo regular follow-up including clinical assessment (every four weeks), blood tests, MRI scans (every eight weeks), and they will complete quality of life questionnaires. This will also be one of the first trials to integrate with The Brain Tumour Charity's app BRIAN.
The trial will measure whether adding Sativex to chemotherapy extends the overall length of patients' lives (overall survival), delays the progression of their disease (progression-free survival) or improves quality of life.
Professor Pam Kearns, Director of the Cancer Research UK Clinical Trials Unit (CRCTU) at the University of Birmingham, which is co-ordinating the trial, said: "Our mission at the CRCTU is to translate cutting-edge science and research into improved patient care by identifying novel therapies that will save lives. It is vital that trials like this, investigating the role cannabis or the chemicals in it can play treat cancer, are carried out."
Principal Investigator, Professor Susan Short, Professor of Clinical Oncology and Neuro-Oncology at the University of Leeds, said: "The treatment of glioblastomas remains extremely challenging. Even with surgery, radiotherapy and chemotherapy, nearly all of these brain tumours re-grow within a year, and unfortunately there are very few options for patients once this occurs.
"Cannabinoids have well-described effects in the brain and there has been a lot of interest in their use across different cancers for a long time now. Glioblastoma brain tumours have been shown to have receptors to cannabinoids on their cell surfaces, and laboratory studies on glioblastoma cells have shown these drugs may slow tumour growth and work particularly well when used with temozolomide.
"It's really exciting that we're now at the point where we can run a definitive, well-designed study that will tell us the answer to whether these agents could help treat the most aggressive form of brain tumour. Having recently shown that a specific cannabinoid combination given by oral spray could be safely added to temozolomide chemotherapy, we're really excited to build on these findings to assess whether this drug could help glioblastoma patients live longer in a major randomised trial."
Dr David Jenkinson, Interim CEO at The Brain Tumour Charity, which is funding the trial, said: "We hope this trial could pave the way for a long-awaited new lifeline that could help offer glioblastoma patients precious extra months to live and make memories with their loved ones.
"With so few treatments available and average survival still so heartbreakingly short, thousands affected by a glioblastoma in the UK each year are in urgent need of new options and new hope.
"We know there is significant interest among our community about the potential activity of cannabinoids in treating glioblastomas, and we're really excited that this world-first trial here in the UK could help accelerate these answers. The recent early-stage findings were really promising and we now look forward to understanding whether adding Sativex to chemotherapy could help offer life-extension and improved quality of life, which would be a major step forward in our ability to treat this devastating disease.
"But we also know that for many, this trial won't come soon enough. In the meantime, while other cannabis-based products may help alleviate symptoms, there is insufficient evidence to recommend their use to help treat brain tumours. For anyone considering using cannabis-based products or other complementary therapies, it's vital that you discuss these with your medical team first, as they could interact with other treatments such as anti-epileptic medicines or steroids."
Stephen Lee, 62 from Leyland in Lancashire, took part in the phase I trial of Sativex in 2015 after his glioblastoma returned following initial treatment. Stephen was first diagnosed in 2010, just a few months after he had very sadly lost his older brother to the same disease. Stephen said: "My diagnosis was very sudden and was one of those days you never forget. Having had to leave work early with a severe headache and a stabbing pain in my right eye, my wife insisted that we go straight to hospital after what my brother had experienced.
"I was admitted that same day, had a scan and that's when they identified it was a brain tumour. I had the operation the following week, and beforehand my wife and I agreed that we wanted to stay positive, to keep living our lives and to enjoy however much time we had together.
"I joined the early trial of Sativex in the hope that it could improve my quality of life, but I also thought it was important to do so as the chemotherapy and radiotherapy I was having had all been trialled by other people before it could be used safely. I thought it only right and proper that I followed in their footsteps and joined a trial to help prove a new drug which could benefit so many people in the future with a recurring glioblastoma.
"I took the oral spray 10 times a day, and it was easy as I could take it wherever we were going, even while out for dinner. While I don't know whether I had Sativex or the placebo, since the trial finished in 2016, all my MRI scans have been clear.
"This new trial is so important as it will give people hope that there could be life beyond a glioblastoma diagnosis and that there are other treatments being trialled to support them to live their lives."
Anyone affected by a glioblastoma can speak to The Brain Tumour Charity on 0808 800 0004.
Notes to Editors
To arrange media interviews with Professor Pam Kearns, please contact Emma McKinney, Media Relations Manager (Health Sciences), University of Birmingham, Tel: +44 7815607157.
For further information about The Brain Tumour Charity, please contact: Jamie Lederhose Tel: 07870233005.
The University of Birmingham is ranked amongst the world's top 100 institutions, and its work brings people from across the world to Birmingham, including researchers and teachers and more than 6,500 international students from nearly 150 countries.
The University of Birmingham-led Cancer Research UK Clinical Trials Unit (CRCTU) has a presence in nearly 400 sites in over 20 countries delivering its vision for innovative and efficient trials to meet the needs of patients in the modern era of multi-modality and multiomic therapeutics.
The Brain Tumour Charity is the world's leading brain tumour charity and the largest dedicated funder of research into brain tumours globally. Brain tumours are the biggest cancer killer of children and adults under 40. Committed to saving and improving lives, The Charity is moving further, faster to help every single person affected by a brain tumour. We're set on finding new treatments, offering the highest level of support and driving urgent change. And we're doing it right now. Because we understand that when you, or someone you love, is diagnosed with a brain tumour – a cure really can't wait.
The University of Leeds is one of the largest higher education institutions in the UK, with more than 38,000 students from more than 150 different countries, and a member of the Russell Group of research-intensive universities. The University plays a significant role in the Turing, Rosalind Franklin and Royce Institutes. We are a top ten university for research and impact power in the UK, according to the 2014 Research Excellence Framework, and are in the top 100 of the QS World University Rankings 2021. The University was awarded a Gold rating by the Government's Teaching Excellence Framework in 2017, recognising its 'consistently outstanding' teaching and learning provision. Twenty-six of our academics have been awarded National Teaching Fellowships – more than any other institution in England, Northern Ireland and Wales – reflecting the excellence of our teaching.

References:
*Twelves et al. A phase 1b randomised, placebo-controlled trial of nabiximols cannabinoid oromucosal spray with temozolomide in patients with recurrent glioblastoma. Br J Cancer 124, 1379–1387 (2021).
**The initial phase 1b trial, led by the same authors, was published in the British Journal of Cancer in February 2021. The study assessed the safety and potential effectiveness of adding Sativex to temozolomide for patients with a newly recurrent glioblastoma (GBM) – finding it could be tolerated, did not appear to interfere with temozolomide treatment and had the potential to improve survival. In the first part of the study, 6 patients received a personalised regime of Sativex of up to 12 sprays per day, alongside their temozolomide therapy – and the side-effects were recorded and reviewed. In the second part of the study, 21 patients were randomised to receive either Sativex with temozolomide (12 patients) or placebo with temozolomide (9 patients) for a total duration of 12 months. 10 out of 12 (83.3%) patients receiving Sativex were still alive after one year, compared to 4 out of 9 (44.4%) patients in the placebo arm.
***Greenberg et al. Incidence and outcomes for cerebral glioblastoma in England, Public Health England; Brodbelt, A., Greenberg, D., Winters, T., Williams, M., Vernon, S. and Collins, V.P. Glioblastoma in England: 2007–2011. Eur. J. Cancer 2015, 51, 533–542.
****The prior figure ('less than 10 months') is the average survival from the point of tumour recurrence following initial treatment, whereas the '12-18 months' figure is the average survival from first diagnosis.
****Rocha et al. Systematic review of the literature on clinical and experimental trials on the antitumor effects of cannabinoids in gliomas. J Neurooncol, 2014. 116(1): p. 11-24; Dumitru, C.A., I.E. Sandalcioglu, and M. Karsak, Cannabinoids in Glioblastoma Therapy: New Applications for Old Drugs. Front Mol Neurosci, 2018. 11: p. 159; Torres, S., et al., A combined preclinical therapy of cannabinoids and temozolomide against glioma. Mol Cancer Ther, 2011. 10(1): p. 90-103.
******The recruiting centres include: Leeds General Infirmary; Guy's and St Thomas', London; Queen Elizabeth Hospital, Birmingham; Addenbrooke's Hospital, Cambridge; Western General Hospital, Edinburgh; The Beatson, Glasgow; The Clatterbridge Cancer Centre, Liverpool; The Christie, Manchester; Queen's Medical Centre, Nottingham; John Radcliffe Hospital, Oxford; Southampton General Hospital; Southmead Hospital, Bristol; Charing Cross Hospital, London; Velindre Cancer Centre, Cardiff, and the Royal Victoria Hospital, Belfast.
*******Both Sativex and the placebo are being provided free-of-charge for the duration of the trial by GW Pharma.