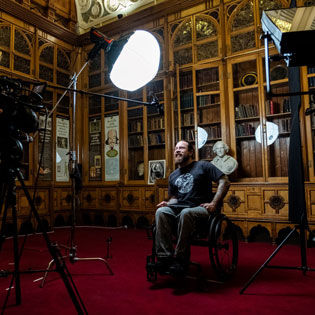 The Everything to Everybody project, led by Professor Ewan Fernie of The Shakespeare Institute, have launched "World's Stage" a series of seven new short films.
Featuring a company of 140 Brummies, the films feature the majority of the 93 languages in the historic Shakespeare Collection at the Library of Birmingham. Following a special online screening on Wednesday 3rd February, seven short films making up World's Stage will subsequently be released daily on the Everything to Everybody YouTube channel.
The 'Everything to Everybody' Project is an ambitious celebration of one of the UK's most important cultural assets: the Birmingham Shakespeare Memorial Library – the first great Shakespeare library in the world, and the only great Shakespeare collection which belongs to all the people of a city.
A collaboration between the University of Birmingham and Birmingham City Council, with funding contributed by National Lottery Heritage Fund and History West Midlands, 'Everything to Everybody' will give this uniquely democratic Shakespeare heritage back to people and communities across Birmingham.
'It has been a joy to see the makers of World's Stage bring Shakespeare back to life with people and communities across Birmingham in the great variety of tongues represented not just in Birmingham's historic Shakespeare collection but also in the homes and on the streets of this brilliant multicultural city. That they managed it in defiance of a global pandemic tells you all you need to know about them and all you need to know about Brummies!'
Daniel Tyler-McTighe, a freelance theatre-maker, educator and director of 27:31, collaborated with BAFTA-winning film-makers John Roddy (Audio Basement) and Ollie Walton (Fix8Films Ltd) and production manager Laura Killeen (General Manager, The Playhouse) to create the films.
"Having worked for many years with Shakespeare, languages and Brummies, 'Everything to Everybody' presented me with the fantastic opportunity to bring all those things together. We assembled a brilliant local team and reached as many people from the city as possible. Of course, the pandemic presented huge obstacles – including pausing in shooting for seven months – but the energy and enthusiasm of everyone involved made sure that we completed what we set out to do: proving that Shakespeare is everybody's."