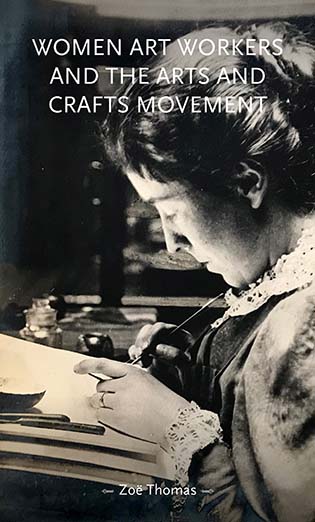 Dr Zoe Thomas, Senior Lecturer in the History of 19th Century Britain and the Wider World at the University of Birmingham, has won the Women's History Network's 2021 Book Prize for her first book Women Art Workers and the Arts and Crafts Movement.
The Women's History Network is a national association and charity for the promotion of women's history and the encouragement of everyone interested in women's history. The Women's History Network Prize is an annual £500 prize for a first single-authored monograph, which focusses on women's or gender history. This year the judges were Dr Paula Bartley, Professor Barbara Bush, Professor Krista Cowman, Professor Ann Hughes and Professor Emily West.
Dr Thomas' book offers the first comprehensive history of the network of women who worked at the heart of the English Arts and Crafts movement from the 1870s to the 1930s. Challenging the long-standing assumption that the Arts and Crafts simply revolved around celebrated male designers like William Morris, it instead offers a new social and cultural account of the movement, which simultaneously reveals the breadth of the imprint of women art workers upon the making of modern society. Thomas provides unprecedented insight into how women navigated authoritative roles as 'art workers' by asserting expertise across a range of interconnected cultures: from the artistic to the professional, intellectual, entrepreneurial and domestic. Through examination of newly discovered institutional archives and private papers, Thomas elucidates the critical importance of the spaces around which women conceptualised alternative creative and professional lifestyles.
The judges of the prize wrote the following:
"As in many historical studies, women have been written out or overlooked. Indeed men like William Morris and John Ruskin dominate the narrative. Zoë challenges the assumption that Arts and Crafts revolved around celebrated male designers and shows that women were active participants in the Arts and Crafts Movement. However, Zoë's book is more than recovery history. The judges all admired Zoë's innovative thematic structure which is based around the spaces in which women arts and crafts workers operated – clubhouses, guildhalls, exhibition spaces, artistic homes and studios, businesses and workshops. We all liked the way in which Women Art Workers links an important artistic movement with key social/political movements in women's history. For instance, Zoë showed how members of the Art group supported suffrage by making banners and other visual ephemera. Finally, we were impressed by Zoë's meticulous research. The range and depth of archival sources used is remarkable: eg manuscript papers, posters, post-cards, institutional archives, memoirs, diaries and letters."
Dr Thomas's book, which is out in paperback, in February 2022, is published by Manchester University Press.