Institute of Advanced Studies Internal Funding Programmes
The Institute of Advanced Studies' Visiting Fellowship programmes bring outstanding academics and researchers from global leading institutions to our campus. The IAS welcomes nominations of Distinguished Fellows and Vanguard Fellows, with resources available for workshops and follow-on funds to support future research collaborations.

IAS Workshops: Enabling the development of new ideas which bring together expertise from across the breadth of our University. We encourage ambitious proposals to utilise the follow-on funds available through our Research Investment Scheme
To all our mentors, fellows and distinguished guests who joined us last month for The Intercontinental Academia. The event gallery is now available.

Some highlights on campus were Professor Penny Andrews giving the Inaugural Race and the Law Lecture, Ada Yonath's Inaugural Grace Frankland Memorial Lecture, Sir Partha Dasgupta's talk on Human Well Being and Economic Accounting, David Gross's Peierls Lecture and The Haworth Lecture delivered by Jean-Marie Lehn.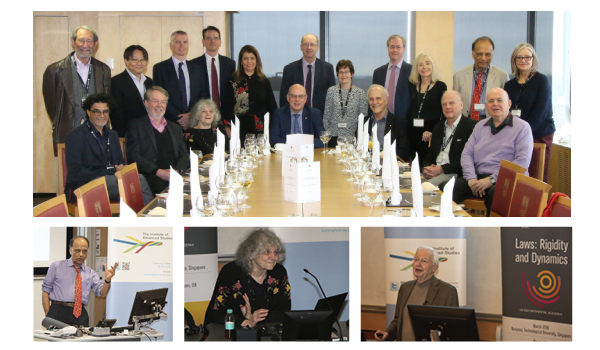 Welcome to our Spring cohort of Vanguard Fellows. We look forward to supporting their collaborations and contribution to our multidisciplinary research environment, including through some of the seminars and workshops in our events section.
Upcoming Workshops and events
Hydrologic Exchange Along River Corridors: Its Nested Nature and Characteristic Spatial and Temporal Scales
Seminar
Wednesday 8 May 2019
12:00–13:00
IGI, 54 Pritchatt's Road
IAS Vanguard Fellow: Jesus D. Gomez-Velez, Department of Civil & Environmental Engineering, Vanderbilt University
Supporting resilience and social inclusion for young people of refugee backgrounds: An Australian case study
Seminar
Tuesday 14 May 2019
17:00–18:30
Muirhead Tower room 118
IAS Vanguard Fellow Dr Karen Block University of Melbourne, hosted by IRiS
Terrorspheres. The sensitive experience of XXI century urban security
Workshop
Thursday 16 and Friday 17 May 2019
Hospitality Suite 12th Floor Muirhead Tower
Workshop leader: Dr Sara Fregonese, School of Geography, Earth and Environmental Sciences
The ASPIRE project: Analysing migrant and refugee women's experiences of domestic violence in Australia
Monday 20 May 2019 (17:00-18:30) Muirhead Tower room 118

IAS Vanguard Fellow: Dr Cathy Vaughan University of Melbourne, hosted by IRiS
Star Machines – Vibrations of the Universe
Green Heart Festival
Saturday 8 June 2019
University of Birmingham
Join conceptual artist Juliet Robson and Professor Bill Chaplin at our interactive and novel artwork that allows an audience to hear, see and engage with the patterns of stars "singing".
Planetary Health
Workshop
Monday 24 June 2019
University of Birmingham
Planetary Health is a newly defined specialty which interlinks environmental and human health, and chimes with the ethos of the Sustainable Development Goals. It came to prominence as a specialty with the publication of The Lancet Commission on Planetary Health in 2015. This meeting aims to bring Birmingham expertise together to explore potential collaborations. 
Workshop leader: Dr Suzanne Bartington, Institute of Applied Health Research
Recruitment for the 2020/21 Institute of Advanced Study Fellowship is now open
The Institute of Advanced Study at Durham offers Fellows time and freedom to think, away from the demands of their everyday professional lives. By recruiting Fellows from all around the world, the IAS fosters an exciting intellectual environment in which thinkers from diverse cultural and disciplinary backgrounds can exchange ideas. Applicants may be from any academic discipline or professional background. Full details
Waseda Institute for Advanced Study (WIAS) Waseda University
The WIAS Visiting Researcher Program is designed to cultivate research with colleagues at Waseda University.
The application deadline is May 9th.
Full details
Sustainable Rural Transformation
Fellowships at The Merian Institute for Advanced Studies, University of Ghana on "Sustainable Rural Transformation" Full details can be found at Call for applications
Applications for fellowships
The Kollegforschungsgruppe, KFG, DFG-Center for Advanced Studies in the Humanities 'Religion and Urbanity. Reciprocal transformations' at the Max Weber Centre for Advanced Cultural and Social Studies of the University of Erfurt (Max-Weber-Kolleg) invites applications for fellowships. Full details and how to apply