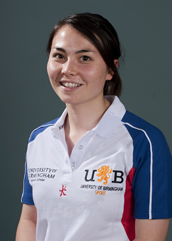 Congratulations to two University of Birmingham Sport badminton players who are set to start off the new season with success after being chosen to represent Great Britain at the 11th World University Badminton Championships 2010.

Alyssa Lim and Catherine Grant, both sport scholars, are among the squad of nine top BUCS badminton players to travel to the event in Taipei, China between the 7th-12th September.
They will both be looking to build on the achievements of last year.

Alyssa, who first represented England at age 12, had a successful first year at the University of Birmingham, including the winning the U19 Ladies doubles and collecting bronze in the mixed doubles at the Danish junior cup, along with being awarded her sixth National title for U19 English mixed doubles with Mark Middleton.

Catherine also had a great season, with one of her highlights winning the mixed doubles and reaching the semi-final in the women's doubles at the Lancashire Open Challenger earlier this year.

The girls worked together to pick up bronze BUCS medals at the semi-finals of the Women's Doubles competition in November.