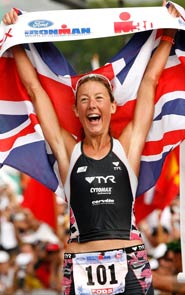 University of Birmingham Alumna Chrissie Wellington produced an amazing performance at the 2010 Ford Ironman Arizona, USA in Sunday, November 21 to win the women's title in a superb 8:36:13, placing her in eighth overall.
Despite the rain, hail and windy conditions Chrissie managed to destroy her own Ironman world record by a staggering nine minutes, 31 minutes ahead of USA competitor Linsey Corbin who claimed second place, and 37 minutes ahead of third placed fellow Brit Leanda Cave.
It was a triumphant comeback from the 1998 Geography graduate after she was forced to withdraw on the morning of September's World Championships held in Kona, Hawaii where she was hoping to take her fourth consecutive title.
Trailing Cave by 43s after the 2.4mile swim, Wellington started to put her stamp on the race 37 miles into the 112-mile bike ride and continued to dominate the final two-thirds, however that was nothing compared to her marathon run, the final event of the competition.
Averaging 6:15 per mile for the first twelve miles, she eventually posted a 2:52:56 to set a new world record at an Official Ironman race.
The 33-year old, who was named an MBE in the Queen's birthday honours list this year, now owns the three fastest times over the distance and maintains her perfect record of 10 Ironman or Ironman-distance wins in 10 attempts.