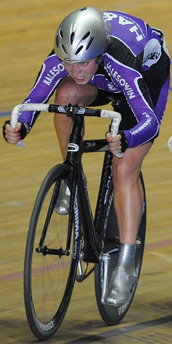 Elle Hopkins, a third year Sport and Exercise Science student, had a successful trip to Manchester Velodrome last week to compete in the National Track Championships 2010, walking away with a silver medal in the Women's Madison and a positive performance in the team sprint race.

The race, on Tuesday, September 21, Elle, along with Dani King, saw out a tense battle in the Women's Madison to claim a close second place, trading blows throughout with the eventual winners Hannah Barnes and Hannah Walker.

The following day Elle claimed fifth place in the women's team spirit with a time of 38.935 seconds alongside Halesowen club teammate Helen Scott.

Elle, who has returned to start the new University year as a sports scholar, also competed in the Women's point, scratch and individual pursuits race.

The 20 year-old was instrumental in the success of the University of Birmingham Sport's (UBSport) Cycling team this year winning three medals, two of which were gold, at the British University and Colleges Sport (BUCS) Track Cycling Championships held in Halesowen in June.

Sports scholarship manager Luke Gunn said of Elle's success: 'The UBSport Cycling team were a surprise in BUCS for us last year and Elle Hopkins was one of the main reasons for such a turnaround.

He continued: 'We are proud to welcome her into the scholarship programme, and with her performance this week she has really set out her intent for the rest of the season. After her hard work during the National Track Championships she will now be looking towards inclusion for the World Student Track Cycling Championships to be held in China, later in the academic year.'

Other notable mentions for the National Track Championships go to Mark Brown (Medicine) who recorded two personal bests in the Time Trial and Pursuit, of 1:15.009 and 5:16.123, beating his BUCS championships times by 3 seconds and 15 seconds respectively.

Xavier Disley (Sport and Exercise Science) recorded huge personal bests of 1:10.932 and 4:50.588, giving the team great confidence leading into the upcoming BUCS championships.
Nick Pilborough (Modern Languages) improved his Time Trial personal best to 1:12.747, nearly 2 seconds faster than his 4th place in the last years BUCS championships.