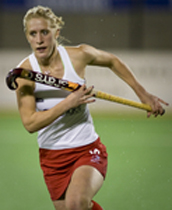 University of Birmingham Sport (UBSport) had a representative in England's women's hockey squad as they picked up their first ever medal in the BDO FIH World Cup in Rosario, Argentina.
Susie Gilbert, third year geography, was part of the team to deservedly beat Germany 2-0 and claim bronze in the competition over the weekend.
The result gives England their second medal in as many months, following their bronze medal victory over Germany in the Champions Trophy held in Nottingham this July.
Susie will now be looking towards the preparations for the Commonwealth games in October, after securing a place when the squad of 16 was announced in August.
UBSports women's hockey Head coach, Phil Gooderham says, 'We are really pleased for Susie who has worked very hard to get into such a strong England side.'
He continued, 'We look forward to welcoming her back ahead of the new season and having a look at her collection of medals from over the summer.'