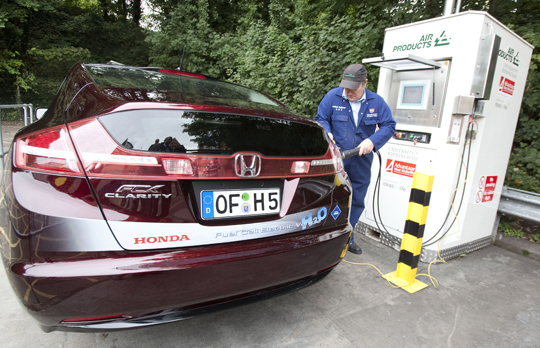 Car manufacturer Honda's ground-breaking hydrogen fuel cell car, the FCX Clarity, will come to the University of Birmingham to be refuelled as it embarks on a week long series of events in the UK.
Honda is already leasing the FCX Clarity in the US and Japan and is now bringing it to the UK to inform and educate policy makers of the viability and potential for hydrogen fuel cell vehicles, which emit no pollutants, only water vapour from the exhaust.
The car will be refuelled at the University of Birmingham's School of Chemical Engineering, which houses the first of the seven hydrogen fuelling stations now established in the UK. Professor Kevin Kendall, Director of the Centre for Hydrogen Fuel Cell Research at Birmingham, said, 'The Honda FCX Clarity exemplifies the excellent work that is going on to develop hydrogen and fuel cells in transport. The more vehicles refuel with hydrogen at our station, the more confident we are that hydrogen will soon be seen as an attractive and cost effective fuelling option.'
The Honda FCX Clarity will be available from 2pm on Monday 13 September. If you would like to send a representative, please call the press office for accreditation.

For further information:

Kate Chapple, Press Officer, University of Birmingham, tel 0121 414 2772 or 07789 921164.