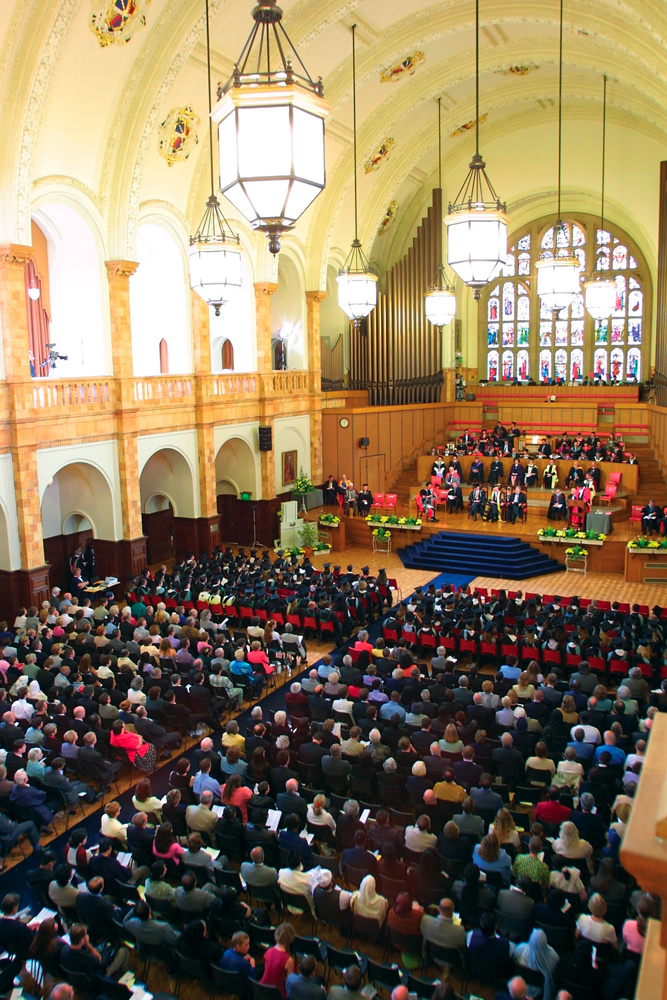 More than 4,500 students will graduate from the University of Birmingham from Friday, July 9 to Friday, July 16 at 16 degree ceremonies in the University's Great Hall. They will be joined by the following honorary graduands:
Friday, July 9
10.30am ceremony
Honourable Justice Robert Kisanga, Doctor of Laws, DDL
Robert Kisanga retired in 2008 after serving as the First Chairman of the Tanzania Commission for Human Rights and Good Governance. Prior to taking up that role, he was Justice of Appeal at the Court of Appeal in Tanzania, the highest Court of Tanzania, and had served as a Judge in the High Court of Tanzania. He attained an LLB (Hons) from the University of Birmingham before working as a Barrister in Middle Temple Inn, London.
1.45pm ceremony
Sir Eric Anderson KT FRSE, Doctor of Letters, DLitt
Eric Anderson is the former Provost of Eton who began his teaching career at Fettes College, where he was Tony Blair's housemaster and teacher to Prince Charles. He has been instrumental in helping to bring the prestigious Eton-Myers Collection and Egyptological artefacts to the University. A renowned and respected educationalist, Eric sits on the Board of the Shakespeare Birthplace Trust.
4.30pm ceremony
Rita McLean, Doctor of Letters, DLitt
Rita McLean is Head of Birmingham Museum and Heritage Services, the largest public authority museum in England. She has been instrumental in the development of many of the city's museums and has contributed much to academic life, including securing Arts and Humanities Research Council collaborative funding for projects run in partnership with the University's Department of History of Art.
The Rt Rev Dr Alan Smith, Doctor of Divinity, DD
Alan Smith was appointed the Bishop of St Albans in 2009 and is a former Area Bishop of Shrewsbury. He was educated at the University of Birmingham, from where he attained a BA (Hons) Theology and an MA, and the University of Wales, where he was awarded a PhD, before moving to Wycliffe Hall, Oxford, where he trained for the ministry. He has served as curate in Bradford, chaplain in Devon, Team Vicar at St Matthew's, Walsall, Archdeacon of Stoke-on-Trent and Honorary Canon at Lichfield Cathedral.
Monday, July 12
10.30am ceremony
Ranjit Sondhi CBE, Doctor of the University, DUniv
Born in India, Ranjit Sondhi studied at the University of Birmingham, where he attained a BSc (Hons) Physics. He has worked on many community projects in inner city Birmingham and was a Senior Lecturer at the University's Community and Youth Studies Department, where he co-ordinated a degree in Race and Ethnic Studies. He is a member of the prestigious Lunar Society in Birmingham and chairman of the Heart of England Primary Care Trust. He was awarded the CBE in the 1999 New Year's Honours list for services to the community.
1.45pm ceremony
Haile Gebreselassi, Doctor of the University, DUniv
Ethiopian Haile Gebreselassi is widely considered the greatest distance runner in history. He has achieved many major competition wins, including Olympic and World championship titles, at distances between 1500 metres and the marathon. He has been working with the University's School of Sport and Exercise Sciences to optimise his nutrition strategy when he set the current world record for the marathon in Berlin in 2008, signifying the importance of science in modern elite sport.
4.30pm ceremony
Lin Homer, Doctor of the University, DUniv
Lin Homer is Director General of Immigration and Nationality Directorate at the Home Office and is widely regarded as having transformed the organisation, which was once described by a former Home Secretary as "not fit for purpose". She was Chief Executive of Birmingham City Council, serving between 2002 and 2005, and was awarded a Companion of the order of the Bath (CB) in the 2008 Queen's Birthday Honours.
Tuesday, July 13, 2010
10.30am ceremony
Dr Tim Harris, Doctor of Science, DSc
Tim Harris is Chief Technology Officer and Director of the Advanced Technology Program at the USA-based SAIC-Frederick, Inc, which develops treatments for patients with cancer and AIDs. The former President and CEO of Novasite Pharmaceuticals, he attained a BSc (Hons) Biochemistry and a PhD in Virology from the University of Birmingham before starting work as a government research scientist at the Animal Virus Research Institute. His industrial work includes periods at Celltech (now UCB Pharma), Sequana/Axys and Glaxo Group Research. He founded SGX Pharmaceuticals, where he spent six years as CEO.
1.45pm ceremony
Professor Robert Lamb, Doctor of Science, DSc
Robert Lamb is Investigator of the Howard Hughes Medical Institute in the USA. He is editor-in-Chief of Virology and is on the editorial board of Journal of Virology. An alumnus of the University of Birmingham, he attained a BSc (Hons) in Biochemistry before being awarded a PhD in virology and later an ScD at Cambridge University. He is Professor of Molecular and Cellular Biology at Northwestern University and Professor of Microbiology and Immunology at Northwestern University Medical School.
4.30pm ceremony
Dr Simon Singh MBE, Doctor of Science, DSc
Simon Singh is one of the UK's foremost mathematicians and physicists. The broadcaster and author set up the University Ambassadors Scheme in 2002, which offers an optional course module to undergraduates of science, mathematics and technology who are thinking of entering the teaching profession. The University of Birmingham participates in this innovative scheme. He was awarded the MBE in 2003 for services to science communication and education.
Wednesday, July 14
10.30am ceremony
Angela Maxwell, Doctor of the University, DUniv
Angela Maxwell is an entrepreneur and Managing Director of Acuwomen, a consultancy staffed entirely by businesswomen that advises strategic development advice to small and medium-sized enterprises (SMEs). After quintupling the profit at the family-run business Francino, where she was Commercial Director, she was appointed a European adviser to UK Trade and Investment. She is regional ambassador for the Women's Enterprise Ambassador's Network and accredited business mentor for UKTI and Business Link West Midlands. Angela is a member of the Birmingham Business School's Advisory Board.
1.45pm ceremony
Professor Richard Fortey, Doctor of Science, DSc
Richard Fortey is a palaeontologist at the Natural History Museum in London and one of the world authorities on trilobites. He has received several prestigious awards, including the Lyell Medal of the Geological Society of London, the Frink Medal of the Zoological Society of London and the Linnean Medal for Zoology. A long associate of the University of Birmingham's Lapworth Museum, Richard has also been president of the Palaeontological Association and the Geological Society of London. He was elected to the Royal Society in 1997.
4.30pm ceremony
Chris Sims OBE, QPM, Doctor of Laws, DDL
Chris Sims is Chief Constable of the West Midlands. He joined the Metropolitan Police in 1980 after graduating from Oxford University with an MA in Modern History, and rose to Chief Inspector at the force. He moved to Staffordshire on promotion to Superintendent, was promoted to Assistant Chief Constable with West Midlands Police and was later Chief Constable of Staffordshire. He has also worked with the National Policing Agency and was awarded the OBE in 2003 for services to policing.
Thursday, July 15
1.45pm ceremony
Professor Sir Keith O'Nions, Doctor of Science, DSc
Birmingham-born and educated Keith O'Nions is Acting Rector of Imperial College London, where he set up and directed a new Institute for Security Science and Technology. A former Chief Scientific Adviser to the Ministry of Defence, he moved to the Department of Trade and Industry, where he was Director General, Science and Innovation, and Chief Scientific Adviser. He has been the chairman or member of a number of Research Council committees and was knighted for services to earth sciences in the 1999 Queen Birthday Honours.
4.30pm ceremony
Professor Barry Everitt FRS, Doctor of Science, DSc
Barry Everitt, renowned as an international authority on brain function, is Professor of Behavioural Neuroscience and Master of Downing College, Cambridge. He was awarded a PhD from the University of Birmingham and undertook post-doctoral research at the University before moving to the Karolina Institute in Stockholm. He has served on several national and international advisory committees.
Ends
Notes to Editors
There will be an opportunity to photograph each honorary graduand in the 15 minutes prior to each degree ceremony. Please phone the Press Office for accreditation.
For further information
University of Birmingham Press Office:
Kate Chapple, tel. 0121 414 2772 or 07789 921164
Ben Hill, tel, 0121 414 5134 or 07789 921163
Rachel Burrows, tel. 0121 414 6681 or 07789 921165