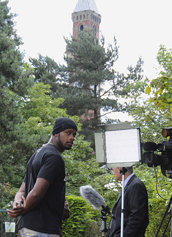 One of the world's fastest men, Asafa Powell, current 4 x 100 world record holders, Nester Carter and Michael Frater, and Olympic Silver Medalist Shericka Williams warmed up on the University of Birmingham's athletics track ahead of the Diamond League (Aviva Grand Prix) Athletics which took place at the Alexander Stadium on Sunday 10 July.
The University will host the Jamaican team for its pre-Games camp next July ahead of the London Olympics. The Jamaican team management has already visited the University campus several times, and regards the venue as potentially the best camp the Jamaicans will have experienced.
The visit on Saturday by some of Jamaica's top Olympic medal prospects allowed the squad to endorse the University's facilities, test out the track as well as meet and speak to sports scholars and staff.
Zena Wooldridge, Director of Sport at the University of Birmingham said: 'There's obviously lots of excitement amongst our university students and staff about the Jamaican team staying on campus ahead of London, and we are delighted that some of Jamaica's top athletes are visiting us, with a year to go, to see for themselves their training and living environment for next July.'