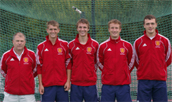 UBSport men's first team hockey coach, Steve Floyd recently returned from Rotterdam, Holland after managing England men's under 21s in a series of test matches against Holland. The test series was carried out over three days at Rotterdam Hockey club, with the event concluding on Monday, July 4.
Joining Steve were four of the University's hockey club players, third year Sports Science and Maths student Scott Evans, second year SPECS Will Byas, third year Geography student Peter Jackson and 3rd year Maths and Philosophy student Patrick Smith.
Over the series, three matches were played in front of several hundred spectators. Third year Geography student Peter Jackson was honourably selected to be captain for the first fixture. The team fought hard and drew the game 2 – 2, with Jackson adding his name to the score sheet scoring both goals for England.
In the second match, England battled bravely against Holland with goalkeeper third year Maths and Philosophy student Patrick Smith making some excellent saves. However, the Dutch side kept piling on the pressure and the England team submitted defeat losing 3 – 1.
The final match saw the University of Birmingham students fight hard, with Jackson scoring another for his country. Unfortunately despite the boys best efforts England lost 2 – 1.
All four of the boys plus another University of Birmingham player, Ben Stoney third year Medicine, have been selected for the Summer series of games against Egypt, Malaysia, Belgium, Scotland and Germany. Dependent on performance, the boys will be hoping to make selection for the European Championships next year. Aside from Loughborough University with six players, the University of Birmingham is increasingly showing a strong presence in the developing England side, a real tribute to the success of the development of the university club.

All five University of Birmingham boys will be taking on Egypt this evening at Bisham Abbey National Sports Centre.