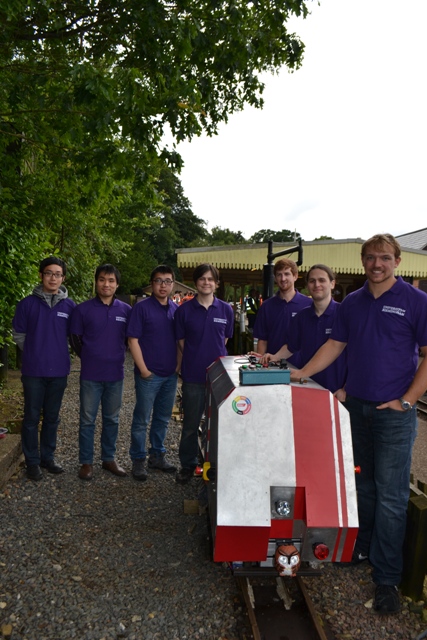 The Birmingham Centre for Railway Research and Education entered the IMechE Railway challenge for the third time last month. With the only hydrogen-powered engine in the competition, the pioneering approach landed them 3rd place in the competition.
The national IMechE Railway Challenge, which this year took place between 27 – 29 June, is designed for teams of engineering students or apprentices working in industry. Competitors are required to design and manufacture a miniature (10¼" gauge) railway locomotive and are tested on their locomotive designs and endurance.
Over 100 people gathered at Stapleford Miniature Railway,Melton Mowbray to watch the action, which included strong competition from the reigning champions, the University of Huddersfield.
Dr Stuart Hillmansen explained "The Birmingham team took a bottom-up approach to the engineering design, and opted for a green propulsion solution. A novel drive system with permanent magnet DC motors was powered by a hydrogen fuel cell hybrid system comprising of a battery pack and fuel cell system. The batteries provide most of the power during acceleration and absorb power during braking, and the fuel cell would continually operate and maintain the batteries at a full state of charge. Super-capacitors and a novel power electronic control system were used to provide additional power capability under harsh braking in the "energy storage" challenge.
"This year the team was strengthened by two visiting students from the University of North Carolina who undertook the challenge as part of their masters' research project on a University exchange programme. The team worked tirelessly in the lead-up to the challenge weekend, and well into the night fixing minor problems and making last minute engineering adjustments. In the end we had the only locomotive which performed within its time slot and did not suffer, what is known in the railway industry as, a "service affected failure".
While the team finished 3rd overall Birmingham were commended for their 'green' approach and finished top of the table for the noise challenge test (which recognised the vehicle as the quietest. Stuart added "Our competitors all used more conventional motive power, based on commercially available generator sets, which were much noisier and produced much higher emissions, so ours was by far the "greenest" train.
"Overall the team had an excellent experience and went away enthused about the railway, and keen to develop further the cutting-edge traction systems research which is being tackled at the Birmingham Centre for Railway Research and Education."
Dr. Stuart Hillmansen
Senior Lecturer in Electrical Energy Systems and Head of the Traction Research Group, School of Electronic, Electrical and Computer Engineering
Part of the Birmingham Centre for Railway Research and Education
More information on the Railway Challenge is available on IMechE's website: www.imeche.org/railwaychallenge