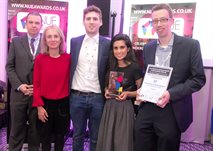 The University of Birmingham celebrated success at the 2014 National Undergraduate Awards, an awards ceremony that celebrates leaders in the field of undergraduate employability. The College of Social Sciences took home the award for 'Most Improved Commitment to Employability' in recognition of the excellent New Professional Development Module and Careers Network were finalists in the award for 'Best New Provider of Work Experience' for the Birmingham Undergraduate Internship Programme, becoming the first University to be shortlisted in this category.
The judges were particularly impressed with the New Professional Development Module. The module has extended the opportunity to undertake accredited placements to all of the students within the College of Social Sciences. Since the investment, the winner has seen an increase of over 150 per cent in non-statutory work-based learning within the college and now boasts over 70 new employer relationships.
Matt Edwards, College of Social Sciences Careers Team Leader said, " We were delighted to have the module recognised nationally, and especially our model of students either undertaking bespoke short work placements developed by us, or bringing their own self-sourced placements to the module"
Congratulations also go to the Careers Network Work Experience team for being shortlisted in the NUE 'Best New Provider for Work experience' category. This relates to the team's work on the Birmingham University Internships Placement Scheme. For further information see www.birmingham.ac.uk/internships.