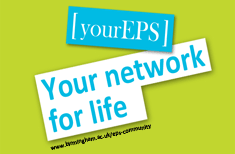 Did you know that College of Engineering and Physical Sciences graduates make up approximately 22% of the University's alumni population and are among the most generous donors to the Circles of Influence campaign?
Gifts from alumni have been invested in a variety of projects at Birmingham, from developments benefiting the whole campus such as the Bramall Music Building to investment in College activities such as student societies, the building of laboratories and scholarships.
The University campus is being transformed through University investment combined with the generosity of donors. Projects include a new sports centre and library, the University of Birmingham School, a pioneering Institute of Translational Medicine and the Lapworth Museum of Geology redevelopment. By forging links with industry partners, the School of Civil Engineering has been able to place undergraduate students on-site at many of these campus redevelopments on both summer and year in industry placements.
There are a number of opportunities available to our alumni to give back to Birmingham, from giving your time and expertise to making a donation to benefit current and future students. Your gifts help to ensure that we continue to attract outstanding young people to study at Birmingham and the EPS Community is grateful for your continued generosity. Thank you.