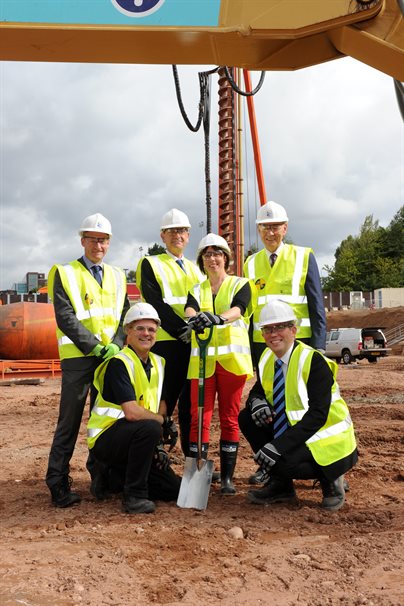 Construction of the new £42 million library at the University of Birmingham is well underway with the piling phase now almost complete.
Carillion began work on the library redevelopment in March after being appointed as the main contractor earlier this year.
Due for completion in March 2016, the library development will provide outstanding facilities for a new generation of students and researchers, as well as a cultural space for the University which will also be open to the people of Birmingham.. It will provide 13,000sqm of floor space over six levels.
The new library will overlook the 'green heart' of the university which will be developed once the new facility is open and will be an inspirational place of learning, embracing new and emerging technologies. Study and research desks will be located near to the windows to allow users to benefit from natural light and the views across campus.
It will offer a variety of learning spaces and include a state-of-the-art audio listening room and four video editing suite booths to enhance the existing facilities already available on campus.
The new library will offer a 50 per cent reduction in energy usage compared to the existing library, helping the university to achieve its 20 per cent CO2 reduction by 2020. It will have a Excellent BREEAM rating.
Paul Reynolds, Carillion Regional Director said: "We are delighted to be working in partnership with the University of Birmingham to provide this wonderful new library facility which we hope will enhance the learning experience for students for many years to come."
Diane Job, director of library services at the University of Birmingham, said: "The library we are building now on campus will be transformational. The opening of the building will be the culmination of a lot of hard work behind the scenes to organise our incredible resources in ways which will allow our students and staff to take advantage of new ways of working and access the considerable amount of materials we hold in the most straightforward way.
The new library will be the most fantastic space for students and researchers to be able to interact with these resources – and we are so excited to see it taking shape before our eyes."
Notes to Editors
For more information contact Kara Griffiths, University of Birmingham, +44 (0)7812 671797