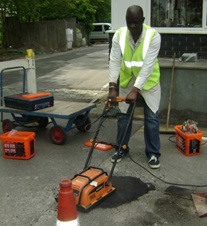 Managing Director, National Roads Authority, Gambia
MSc in Road Management and Engineering (2011)
The degree program at Birmingham really prepared me for my career and practice.
How has your career developed since graduating from the University of Birmingham?
I was the Director of Maintenance and Safety at National Roads Authority, prior to going to Birmingham. As the MSc degree in Road Management and Engineering from Birmingham has prepared me adequately to assume higher responsibilities in the Institution, coupled with my work experience, I was promoted to the position of Managing Director in 2012. I succeeded Mr. Ebrima Njie, also an MSc Road Management and Engineering graduate at Birmingham. Mr. Njie is now the Commissioner of Infrastructure at the Economic Commission of West African States (ECOWAS) based in Abuja, Nigeria.
What is the best thing about what you are doing now?
The best thing about what I am doing now is making national and international decisions about road infrastructure matters affecting Gambia as a country. I am also a strong adviser of the Government of Gambia on road infrastructure issues.
To what extent did your degree set you up for your career?
The MSc degree at Birmingham is a very comprehensive program, designed purely with the concepts of Highway Engineering and Road Administration at heart. As head of a road institution, these aspects are part of my daily activities.
How far did your degree prepare you for practice?
The modules taught during the course of the degree program (Road Maintenance, Road Asset Management, Road Design, and Road Economics, just to name a few) are core areas which form part of the daily life of a practising Road Engineer. As such, the degree program at Birmingham really prepared me for my career and practice.
What were the most positive and also the most challenging aspects of your degree?
The most positive aspects of the degree program are the quality of lecturers and the rich contents of the modules taught. The most challenging aspects could be related to the amount of reading materials! The Road design course work was also an interesting challenge.
What advice would you give to current students studying the degree?
My advice to current students would be to stay ahead of the lectures and coursework, to avoid falling behind on the program as a whole.
What was your favorite thing about the university?
My favorite thing about University of Birmingham is its diversity in terms of culture, ethnicity, religion and nationalities of its student body.
What is your best memory of your time at Birmingham?
My best memory of my time at Birmingham is the inventory and condition surveys carried out on the University Ring Road.