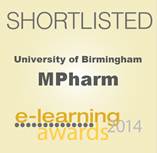 We are pleased to report that the virtual chemistry for pharmacy (MPharm) project, a University of Birmingham project, has been shortlisted in the National E-Learning Awards 2014. The University of Birmingham is the only university to be shortlisted in any category this year.
More than 250 entries were whittled down by an independent judging panel to produce an exceptionally diverse shortlist that really showcases the amazing range that e-learning now covers.
Nominated in the Best learning game, simulation or virtual environment category, the University of Birmingham has successfully delivered the first year of a new 4-year MPharm program to 80 students. The highly innovative integrated curriculum design includes a module on chemistry for pharmacists in the first year. The module is delivered through lectures, small group teaching (SGT), online learning resource and five 3-hour "virtual practicals". The programme is jointly accredited by the University, and the General Pharmaceutical Council (GPhC) who are the professional regulators that allow graduates to clinically practice.
Speaking on behalf of the MPharm team, Peter Rainger said, "We are extremely proud to be shortlisted and that our innovative approach to teaching is being recognised. We're very grateful for the STEM funding which we received that allowed us to buy the development software and the high quality events which the STEM Education Centre has put on which have helped us plan our evaluation strategy".
The winners will be announced at the E-Learning Awards gala evening at the London Marriott Hotel Grosvenor Square on Thursday, 6 November 2014.