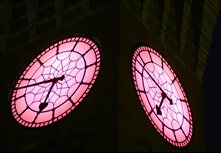 The University of Birmingham's iconic clock tower 'Old Joe' turned pink in the lead up to Breast Cancer Campaign's annual fundraiser 'wear it pink' day.
Organised by the leading research charity Breast Cancer Campaign, Old Joe was one of 18 landmarks across the UK which turned pink on Wednesday 22 October to raise awareness of 'wear it pink' day on Friday 24 October.
'Wear it pink' raises over £2 million every year in October's Breast Cancer Awareness Month. Breast Cancer Campaign funds life-saving research at institutions across the UK.
Dr Jo Morris, a Senior Lecturer at the University of Birmingham's School of Cancer Sciences said: "Despite the considerable improvements in breast cancer survival over the last 30 years still every year 50,000 women are diagnosed and 12,000 die. There is a need to improve the survival and quality of life those with and surviving this disease.
"The work in my lab is funded by Cancer Research UK and the Breast Cancer Campaign to greater understand how our genes influence the development of breast cancer and how understanding this link might improve diagnosis and treatment. In particular we are investigating how the BRCA1 gene works to prevent cancer development. With Old Joe at the centre of the University 'wearing it pink' we are inspired to redouble our efforts in the lab as well as thank the many supporters who fund our work."
To donate £3 to Breast Cancer Campaign simply text PINK to 70660*.
To mark Breast Cancer Awareness Month, we've put together some resources which give you the opportunity to learn more about the symptoms, treatments and latest research into breast cancer. Watch our top tips video on breast awareness, meet some of our key researchers who work tirelessly to improve treatment and prognosis for breast cancer patients, and discover what you can do to help with our research.
Find out more about Breast Cancer Awareness Month by following this link