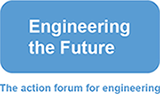 The engineering profession has undergone profound changes over the past 15 years and is now making an even greater contribution to the economy and society than could have been anticipated, according to a new report published today by Engineering the Future, an alliance of leading engineering organisations.
The Universe of Engineering: a call to action (1.37 MB) is available to download here
Engineering is no longer just about hard hats and hi-visibility vests, yet the way it is portrayed in society and seen by policymakers has not kept up with this evolution, says The Universe of Engineering. The report shows how engineering skills are now needed in an increasingly diverse range of fields including brain imaging, airport security, drug delivery systems, materials science and prosthetic limbs.
In it, the professional engineering institutions (PEIs) are urged the to adapt so that they better represent and develop engineers involved in such exciting and rapidly developing fields, and use this as a springboard to attract more people into the profession.
The UK is facing an unprecedented skills crisis, says the report. Analysis by the Royal Academy of Engineering suggests the UK will need over a million new engineers and technicians by 2020 and EngineeringUK research shows this will require a doubling of the number of annual engineering graduates and apprentices. This will require a step change in the effort to attract young people into the engineering and it must start with coordinated, inspiring messaging to the public that truly captures the real nature and breadth of engineering in the 21st century.
The report makes eight key recommendations to PEIs and policymakers to maintain excellence in the profession:
develop a dynamic set of images and messaging to inspire and excite;
cast the net wider in terms to bring people into the profession and develop them at all levels from apprentice to chartered;
work with government to develop employment statistics and measures of economic activity that reflect more properly the role of engineering;
work with government to drive improvement in careers guidance;
improve opportunities in engineering for women and those from underrepresented social and ethnic groups;
professional engineering institutions (PEIs) should prepare for the impending increases in apprenticeships and vocational training routes into engineering by providing opportunities for registration and progression;
PEIs should work with the FE and HE sectors to ensure that industrially experienced engineers provide contextualised learning;
government departments should recognise the value that can be gained from greater use of the independent engineering advice from the professional engineering community. As a major employer, government should also lead by example in ensuring the engineers it employs are registered.
Source: Royal Academy of Engineering