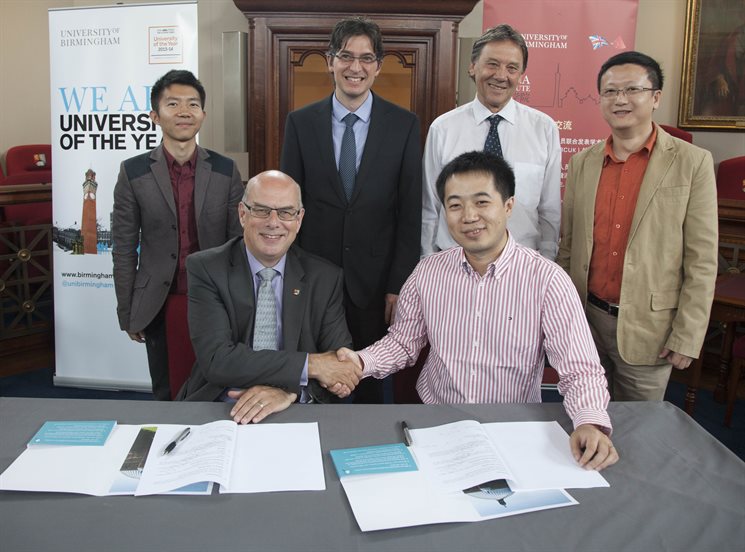 BGI, the world's largest genome research institute, has signed a ground-breaking agreement with the University of Birmingham that will create the Joint Centre for Environmental Omics (JCEO) between the two institutions. The JCEO will seek to protect environment, health and global biodiversity by analysing the toxicity of compounds more efficiently than has been achieved before.
Located on the University's Edgbaston campus, the JCEO will specialise in automated ultra-high-throughput sample processing in a facility jointly operated with the BGI China National GeneBank (CNGB). The Centre's work will provide comprehensive and timely data on the effects of thousands of high priority chemicals, advanced materials and their mixtures on biological systems.
BGI, based in Shenzhen, has more than 5,000 employees including over more than 1,000 bioinformatics specialists who are working on solving the globe's most pressing research questions and societal challenges.
Over 60,000 synthetic compounds are used by industry and found in domestic products across the world, for which there is a paucity of information on their potential environmental and health effects. The knowledge gap can be addressed by applying the rapid technological improvements in DNA sequencing and computing power that are transforming the possibilities for regulatory toxicology. These scientific advancements will be crucial to the work of the JCEO, which aims to reduce the uncertainty about compound health risks and help industry fulfil the requirements of European legislation such as REACH and the Water Framework Directive.
John Colbourne, Professor of Environmental Genomics , University of Birmingham and Co-Director, JCEO, said: "Together, REACH and the Water Framework Directive can positively transform environment and human health protection, as long as science can provide robust and cost-effective toxicity tests to be used by industry, policy makers and regulators".
Xin Zhou, Deputy Director, CNGB and Co-Director, JCEO added: "In collaboration with industry and government scientists, the JCEO will allow the European Union and beyond to 'industrialise' knowledge for advancing regulatory science and its applications that will, in turn, lead to a unique mass-scale predictive, quick and relatively inexpensive diagnoses of environmental health concerns".
BGI will staff the JCEO with laboratory technicians and bioinformaticians, who will collaborate with scientists at the University of Birmingham and international partners on a variety of projects.
Dr Yong Zhang, Assistant President, BGI said: "Considering the scale of current environmental health problems, and realistic future projections, we are calling-out to researchers all over Europe and the UK to collaborate with the JCEO in response to international research challenges, so as to maximize the growth of this shared knowledge".
The signing took place between Professor Sir David Eastwood, Vice-Chancellor, University of Birmingham and Dr Yong Zhang, Assistant President, BGI in front of a gathered audience in the University's Senate Chamber on Thursday 3 July.
Main image (left to right)
Front row
Professor Sir David Eastwood, Vice-Chancellor, University of Birmingham
Professor Yong Zhang, Assistant President, BGI
Second row
Dr Ryan Liu, Europe Business Development Director, BGI and Vice President of Scientific Collaboration, BGI Europe
Professor John Colbourne, Environmental Genomics Chair and Co-Director, JCEO
Professor Kevin Chipman, Pro-Vice-Chancellor, Head of College, Life and Environmental Sciences
Professor Xin Zhou, Deputy Director, BGI CNGB and Co-Director, JCEO
The University of Birmingham has been named The Times and The Sunday Times University of the Year 2013/4.
The University of Birmingham is ranked amongst the world's top 100 institutions, its work brings people from across the world to Birmingham, including researchers and teachers and more than 4,000 international students from nearly 150 countries.
The University collaborates with partners across the world to produce ground-breaking research, deliver innovative teaching, and to create opportunities for students and staff to gain international experience. Although Birmingham's partnerships are wide ranging and span all continents, the University has identified China, India, Brazil and North America as key strategic regions in which they wish to develop more focused engagement.
The University's aims with China include developing joint research, promoting education and engagement. To this end the University has established a centre in Guangzhou to host its activities in China, and the China Institute at the University of Birmingham to gather together their wide-ranging research activities with Chinese partners and concerning China more generally.
BGI was founded in Beijing in 1999, with a mission to support the development of science and technology, build strong research teams, and promote the development of scientific partnership in genomics. In 2007, BGI's headquarters was relocated to Shenzhen as the first citizen-managed, non-profit research institution in China. BGI collaborates in research with scientists all over the world for the advancement of innovative biology research, molecular breeding, healthcare and related fields. BGI is dedicated to facilitate omics applications in healthcare, agriculture, and environment, to serve the people for a better life.
The China National GeneBank (CNGB), established and operated by BGI, is the first national institute integrating a large-scale bio-repository and an omics database. Its mission is to collect, preserve and exploiting genomics resources, and to build a network fostering global communication and collaboration on biodiversity conservation and genetic resources utilisation.
This initiative builds upon Birmingham's Stratified Medicine and Systems Science for Health programs. The West Midlands Regional Genetics Laboratory, the largest NHS genetics facility in the UK, is at the forefront of introducing new genomic technologies into clinical pathways to transform the delivery of healthcare in the UK. The initiative will provide tools and additional skill sets to integrate genomics into mainstream medicine such as in cancer treatment.
Genomics has also been at the heart of bacteriological research in Birmingham for over a decade, housed within the Institute of Microbiology and Infection and an NIHR-funded Surgical Reconstruction and Microbiology Research Centre.
For interview requests, images or for more information, please contact Ben Goodwin, International Media Relations Manager, University of Birmingham on +44 (0) 121 414 8254. For out of hours media enquiries, please call: +44 (0) 7789 921 165