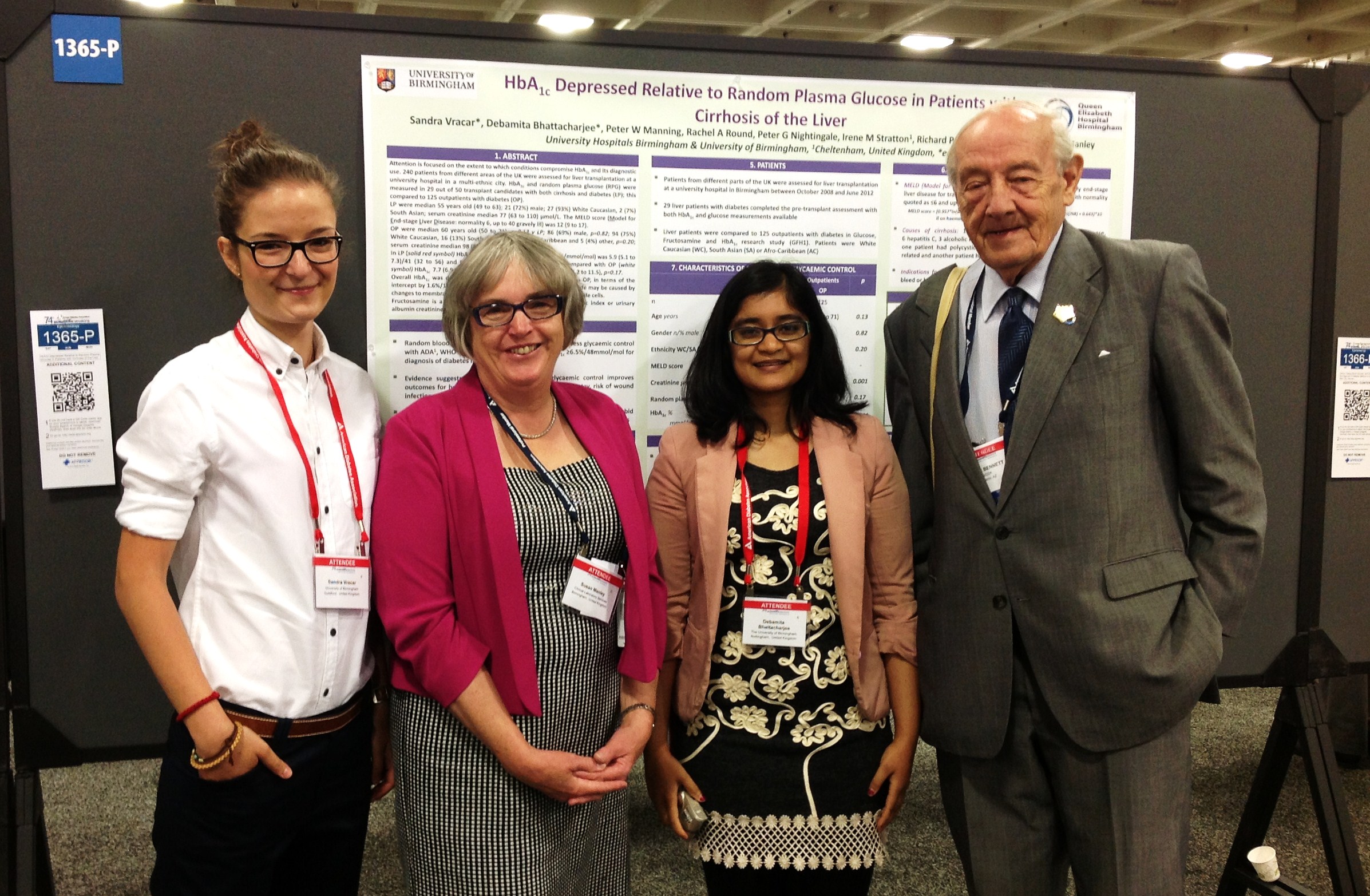 The American Diabetes Association Conference is the most prestigious meeting in the world within its field of research. This year, two students from the University of Birmingham, Sandra Vracar and Debamita Bhattacharjee, were selected to present their research poster during the five day event. The students' poster was one of the few from the UK and gave the students the opportunity to share their research with experts in the field.
Sandra discusses their experience at the ADA Conference in the summary below.
"San Francisco - famous for its glorious weather, approachable locals and unique tourist attractions: Golden Gate Bridge, Fisherman's Wharf, Alcatraz Island, China Town; the list is infinite. To add to its already impressive and ever-growing resume, this year the metropolitan city also played host to the American Diabetes Association (ADA) annual international conference. But, plenty of this later. As with any good story, best to go back to the start.
The adventure began in 2013, in my fourth year of MBChB. At the time, I had carried out a clinical audit under the guidance of Dr Richard Parker, hepatologist and research fellow, and with the help of student Debamita Bhattacharjee. We looked into pre-operative glycaemic monitoring of liver transplantation candidates at the Queen Elizabeth. In my fifth year, I discussed the results with Dr Sandip Ghosh, diabetologist and favourite amongst medical students. He helped liaise with the clinical biochemistry scientists, enabling Debbie and I to combine our audit cohort with that of one collated by Dr Sue Manley and team. After thorough statistical analysis, we found the following: our cohort showed that HbA1c is artificially suppressed in cirrhotic patients compared to the normal population, and is therefore not a reliable test in patients like these. Despite appearing in existing medical literature on hepatology, this fact is little known in the world of diabetes. Dr Manley instantly noted the importance of this and put forward an abstract for consideration by the ADA; we began work on the presentation poster immediately.
This finally brings us to Thursday 12th June, 2014.
News of acceptance meant the opportunity to present our findings on an international scale, and a way of demonstrating the budding relationship between the University of Birmingham medical school and its hospital, the Queen Elizabeth. To our deep gratitude, the team appointed Debbie and I - medical students and "young faces" - as representatives for the conference, with Dr Manley in tow. Our platform was to be the Moscone Centre; a magnificent building in the bustling heart of downtown SF and host to a little over 15,000 passing medical professionals over the next couple of days.
On reflection, we can both confidently say that the long weekend was one of the best we've had in our young careers. To be surrounded by so many inspiring, brilliant minds was an absolute joy and a privilege. For three days, we were treated to an array of symposia, debates and poster tours, lead by world-renowned academics and clinicians. We came to realise how vast the topic of diabetes is - we learned about novel medical therapies in reducing oxidative stress in diabetic nephropathy, the pros and cons of early HbA1c control in cardiovascular disease, innovative ways of reducing rates of amputation and the emerging technologies for diagnosis of diabetic retinopathy.
However, Debbie and I agreed that one talk in particular really inspired us. It addressed the consequences of long-term hypo and hyperglycaemia, and their devastating and sometimes permanent effects on children and the developing brain- we learned that exposure to glycaemic extremes increases risk of Alzheimer's disease, impaired memory functioning and reduced IQ. As a consequence, for me this talk highlighted the possibility of a future career centred on Type 1 Diabetes and work with young people.
Our poster display proved equally terrifying and exciting. Fortunately, we quickly garnered interest from passing colleagues and it was a wonderful feeling to be able to humbly impart knowledge - a stark contrast to days spent on wards learning from others. The discussions were positive and our colleagues highlighted interesting points through constructive and much-appreciated critique.
The conference also gave us an opportunity to realise the meaning of networking: to meet professionals in the field and arrange research, internships and funding, or simply to catch up with old friends. Dr Manley eagerly showed us the ropes, introducing us to Dr Peter H Bennett, one of the foundational researchers in the field and an expert on diabetes in the Pima Indians in Arizona. She proved that with effective communication, an individual can bring together faculties from all over the world to focus on one goal.
With much learning, networking and presenting complete, we finally set our sights on one last thing - tourism. In our last two days, Debbie and I managed to cycle the entirety of Golden Gate Park, explore the ominous interiors of Alcatraz prison, befriend a sweet lady from China who took us to the beach, and cover the length and breadth of Golden Gate Bridge. Dr Manley treated us to wine and introduced us to the delights of clam chowder and sea lions at Fisherman's Wharf, and for the first time in my life but most definitely not last, I saw an esteemed colleague as both a mentor and a friend.
All in all, this experience was unparalleled. It has taught us the importance of medical research, particularly when different specialties come together (sometimes even with the help of medical students!) We now realise the enormous benefit of taking initiative to find projects to get involved with at placement, and strongly encourage students and friends to do so - you should never be afraid to ask your seniors, they will appreciate your interest.
Many thanks to all involved, including the University of Birmingham Medical School, the Arthur Thompson Trust and Dr Sandip Ghosh for funding, in making a small audit into a big adventure we won't rush to forget. We hope we have successfully taken the beginning steps to an enduring professional relationship between University of Birmingham and the Queen Elizabeth, with many other students to follow".
Read more about Birmingham Health Partners, a collaboration between University of Birmingham, University Hospitals Birmingham NHS Trust, and Birmingham Children's Hospital NHS Trust, here.