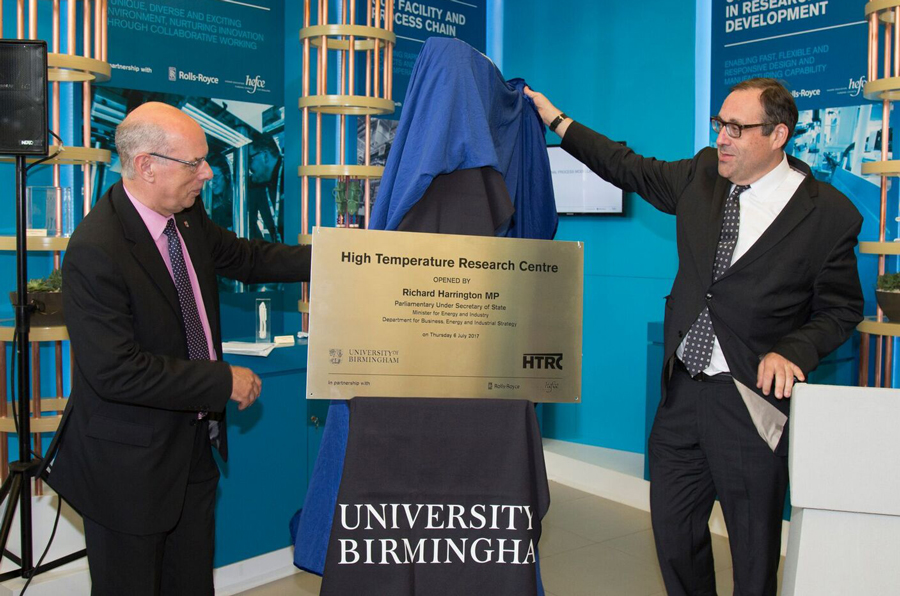 The University of Birmingham and Rolls-Royce celebrated their joint collaboration to establish a High Temperature Research Centre (HTRC) with an official opening today (Thursday 6 July).
Business Minister Richard Harrington visited the 5,800 sqm facility which was funded through a £40m investment by Rolls-Royce, matched by a £20m government grant through the Higher Education Funding Council for England's (HEFCE) UK Research Partnership Investment Fund (UKRPIF).
The self-contained casting foundry for pioneering future generation aero engine development is located in Ansty, Coventry. Completed last year, it now hosts 110 researchers, technicians, and associates.
The HTRC enables production scale research and experimentation to deliver rapid high quality product and process innovation for unique casting, design, simulation and advanced manufacturing ranging from fundamental materials science to applied engineering. Since opening, the Centre has secured substantial funding for research.
Business Minister Richard Harrington said: "This Centre, supported by government funding of £20m, provides a unique opportunity for collaboration between researchers, designers and manufacturers to develop and adopt novel and advanced manufacturing technologies for high temperature materials. As well as helping companies like Rolls-Royce to develop greener and more efficient aero-engines in the future, it will assist companies more widely across manufacturing sectors. It is a further demonstration of the government's ongoing commitment to the advanced manufacturing in the UK as part of our modern Industrial Strategy."
Professor Sir David Eastwood, Vice-Chancellor of the University of Birmingham, said: "This critical partnership provides an unparalleled opportunity to accelerate manufacturing research in the UK. Our bold and ambitious approach in the construction of this facility, builds on the University's long-standing track-record in casting, materials, engineering and manufacturing to develop next generation technologies.
"The HTRC will ensure the enhanced competitiveness of UK high value manufacturing which will benefit end users in the aerospace, energy, automotive and medical sectors and drive economic development, employment and business competitiveness."
Rolls-Royce Executive Vice President - Turbines, Andy Greasley added: "I was delighted to attend the official opening of the High Temperature Research Centre. This new Centre further strengthens our strategic partnership with the University of Birmingham and will focus on the development of turbine investment casting technologies, which are crucial to the future success of Rolls-Royce products.
"The High Temperature Research Centre demonstrates our commitment to world-class technology and infrastructure to deliver our promises to our customers and will concentrate our research on one of our most challenging and critical engine components."
Since it commenced operation, the HTRC's multi-disciplinary teams have progressed testing in future generation aero-engines. In a short period, researchers have been able to halve the typical lead time of design and manufacturing of a key engineering component.
Additional funding has been secured and sees new collaborative programmes launch, including The National Wind Tunnel Facilities at the Universities of Oxford, Southampton and Imperial College London and the Rolls-Royce University Technology Centre in Heat Transfer and Aerodynamics at Oxford.
The facility is co-located alongside the Manufacturing Technology Centre (MTC) at Ansty Park, Coventry enabling greater responsiveness to new industrial challenges and faster translation of research to multiple industrial partners.
For more information, please contact Samantha Williams, University of Birmingham: +44(0)121 414 3984 / +44(0)7812671797
Additional images are available on request.
The High Temperature Research Centre
In collaboration with Rolls-Royce, the University of Birmingham established the £60 million High Temperature Research Centre (HTRC), a unique casting design, simulation and advanced manufacturing research facility.
Leading the way in Advanced Manufacturing for the UK, the facility focuses on the key design and manufacturing aspects of investment casting in relation to aerospace and other industrial sectors. Most importantly integrated process modelling (ultimately at a systems level) and simultaneous engineering will produce step changes in 'fast design and make' capability for key UK manufacturers.
Rolls-Royce
Rolls-Royce's vision is to be the market-leader in high performance power systems where our engineering expertise, global reach and deep industry knowledge deliver outstanding customer relationships and solutions. We operate across five businesses: Civil Aerospace, Defence Aerospace, Marine, Nuclear and Power Systems.
Annual underlying revenue was £13.8 billion in 2016, around half of which came from the provision of aftermarket services. The firm and announced order book stood at £80 billion at the end of 2016. In 2016, Rolls-Royce invested £1.3 billion on research and development. We also support a global network of 31 University Technology Centres, which position Rolls-Royce engineers at the forefront of scientific research. Rolls-Royce employs almost 50,000 people in 50 countries. More than 16,500 of these are engineers. The Group has a strong commitment to apprentice and graduate recruitment and to further developing employee skills. In 2016 we recruited 274 graduates and 327 apprentices through our worldwide training programmes.