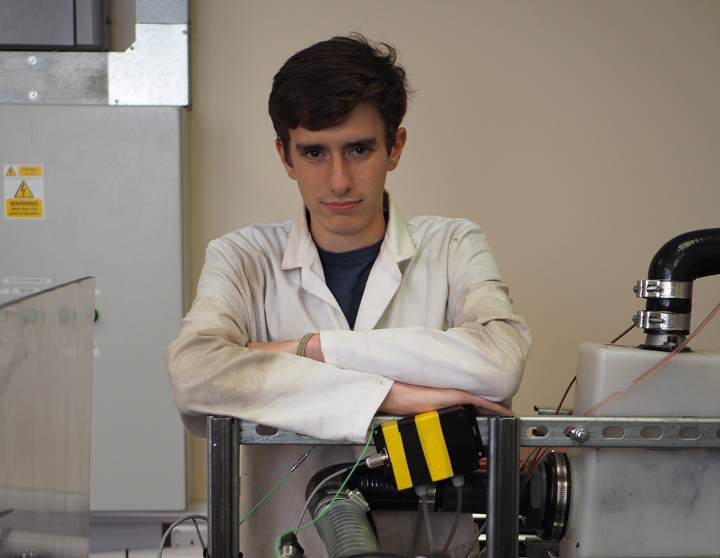 A University of Birmingham engineer is one of the UK's most promising young doctoral engineers and scientists who have been awarded prestigious Industrial Fellowships.
The Royal Commission for the Exhibition of 1851 awarded an Industrial Fellowship to Iestyn Stead, for his work on the reduction of energy losses in zero emissions Dearman engine technology.
The Commission is supporting both engineers and scientists to help bring their technologies to commercialisation and make an impact on businesses and society.
Iestyn's award supports his research into improving Dearman Engines, a type of zero-emissions engine that uses liquid nitrogen.
On receiving his award, Iestyn said: "It is an amazing accolade to be supported by the Royal Commission for the Exhibition of 1851, not only as an accreditation of my research but also for the opportunities the commission's support will enable as my research develops.
"This support will bring the outputs of the project closer to an industrial solution, accelerating the development of the Dearman Engine. The list of 2017 Industrial Fellows is very long and impressive and it is a huge honour to have my name listed among them."
Originally set up by Prince Albert following the Great Exhibition of 1851, the Industrial Fellowships recognise the best research that could advance British industry and award them funds to bring them to market.
Dr Karl Dearn, from the University of Birmingham's Department of Mechanical Engineering said: "Iesytn's research, supported by the 1851 Industrial fellowship, builds on research council and industry funded work, that, if successful, will be perfect for Dearman to exploit.
"He is the ideal candidate to progress this to the next stage in this very exciting time for the development of clean cold technologies. This is a very prestigious Fellowship and Iestyn is a very worthy recipient - he an excellent engineer and a very collegiate member of our research group."
Other technologies supported through the Fellowship awards include a new way to purify the immune system's T-cells and genetically modify them to potentially identify and kill cancer cells, and a project to improve the yield of stem blood cells from umbilical cord blood to improve the treatment of blood based cancers.
Bernard Taylor, Chairman of the Royal Commission for the Exhibition of 1851, said: "Ensuring Britain's young scientists and engineers are supported is crucial to ensuring that the UK is at the forefront of innovation in the years to come. Our Industrial Fellowships are designed to fund and commercialise the most promising technologies that could shape our society in the future.
"This year, we have awarded more Fellowships than ever before, and the breadth of technologies we are supporting, from artificial intelligence, to clean power and potential cures for most deadly diseases demonstrates that the talent in the UK is only growing."
The Industrial Fellowships provide graduates with the means to develop innovative technology with commercial potential, ideally leading to a patent, while completing a PhD or EngD. Each Fellow receives up to £80,000 worth of funding over three years for their work, which they will carry out in collaboration with an academic institution and a business partner.
The programme plays a crucial role in facilitating collaboration between universities and industry, offering much sought after funding for research and development for new intellectual property. It also enables promising scientists and engineers to conduct research whilst gaining valuable industry experience.
The University of Birmingham is ranked amongst the world's top 100 institutions, its work brings people from across the world to Birmingham, including researchers and teachers and more than 5,000 international students from over 150 countries. Founded in 1900, the University of Birmingham was England's first civic university, where students from all religions and backgrounds were accepted on an equal basis.
The Royal Commission for the Exhibition of 1851 offers major awards to scientists and engineers for research, development and design. First established to stage the Great Exhibition in 1851, the Royal Commission's extraordinary history is founded on an inspired vision of the importance of education to economic success. It has previously funded luminaries such as Nobel laureates Professor Peter Higgs, Sir James Chadwick and Paul Dirac. More information about Fellowships can be found here.