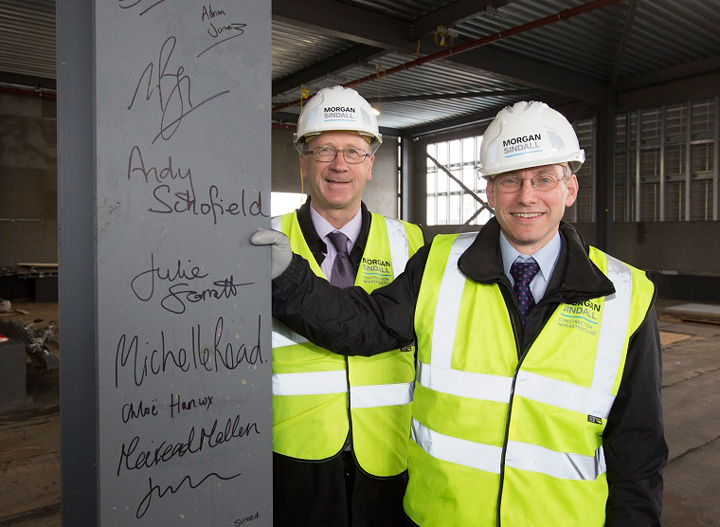 The University of Birmingham has marked progress on an innovative new £40 million teaching laboratory which will change the way students study Science, Technology, Engineering and Mathematics (STEM) subjects.
The Collaborative Teaching Laboratory (CTL) will bring together practical teaching activities across a broad range of sciences and engineering disciplines for undergraduate and postgraduate students when it opens in autumn 2018.
University of Birmingham Pro-Vice-Chancellor Professor Tim Softley joined Richard Fielding, Area Director of main contractor Morgan Sindall – who are constructing the new facility – for a topping out ceremony, which saw guests sign one of the building's girders.
Professor Softley said: "The University of Birmingham aims to deliver the best possible learning experience for our students. This is not simply a building, but a change in the way we deliver engineering and science-based education in the University.
"The CTL will make more effective use of staff time and resources through the efficient use of practical teaching space and innovations in teaching delivery. Our students will benefit from transformational teaching and become better prepared for working life."
The CTL will incorporate a wet lab, dry lab and e-lab in a new purpose-built facility, as well as a refurbished heavy engineering lab, which has already been completed within the existing mechanical and civil engineering building.
These new facilities will create a visually stimulating and interactive environment in which to showcase science and STEM subjects to a wider audience.
Professor Softley added: "We have already seen the benefits that the first phase of CTL has brought in our School of Engineering and student feedback there has been positive."
The CTL will provide flexible space for outreach and business engagement activities, applicant visit days, open days, events and CPD. The facilities will also strengthen new and existing links with partners such as local science and engineering firms, alumni and the University of Birmingham school.
Richard Fielding, Morgan Sindall's Area Director for the Midlands, added: "The knowledge economy has the potential to drive growth across the Midlands. But for this to happen we need world-class laboratories for R&D to take place, and an enthused community of new young scientists to support it.
"The CTL is set to offer both the modern physical facilities for scientific ideas to take shape, and also serve as a vital hub, allowing equally important outreach and engagement programmes to showcase STEM subjects to the wider community. We're proud to be delivering a project which is so important to both the University of Birmingham and the city, and very pleased to celebrate this milestone in its development."
For more information or interviews , please contact Tony Moran, Interim Head of Communications, University of Birmingham on +44 (0) 121 414 8254 or +44 (0)782 783 2312. For out-of-hours enquiries, please call +44 (0) 7789 921 165.
The University of Birmingham is ranked amongst the world's top 100 institutions, its work brings people from across the world to Birmingham, including researchers and teachers and more than 5,000 international students from over 150 countries. Founded in 1900, the University of Birmingham was England's first civic university, where students from all religions and backgrounds were accepted on an equal basis.