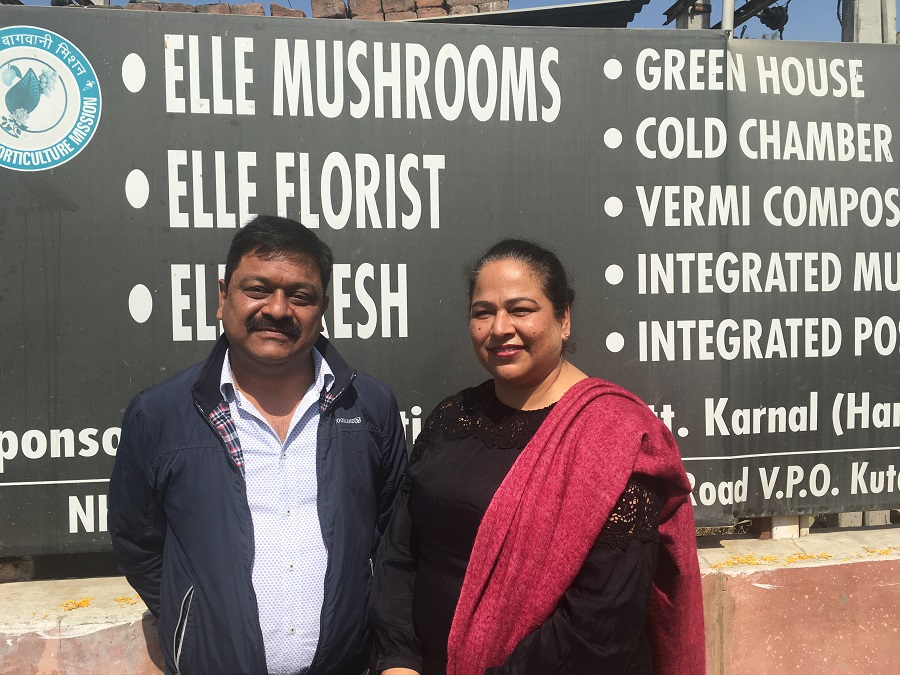 'Clean Cold' chains are essential to the progression of India's farming industry, according to a new report.
Scientists from the University of Birmingham argue that the introduction of clean cold to India's food supply chain will develop infrastructure that will not only allow farmers' income to double, but do so sustainably.
Establishing an integrated and seamless network of refrigerated pack houses, distribution hubs and vehicles used to maintain the safety, quality and quantity of food, while moving it swiftly from farm gate to consumption centre, will see India's farmers reap substantial benefits.
Prime Minister Modi set India the target of doubling farmers' income by 2022. Currently, as much as 40% of some harvested crops have to be discarded before reaching any consumer because of no cold chain. This represents not only a huge waste of food – with serious consequences for agricultural resources and carbon emissions – but also a major loss of revenue and opportunity for Indian farmers.
Similarly, with high levels of emissions already a problem in India, farmers must not default to the use of conventional, highly polluting cold chain technologies that dominate in developed economies. Instead, the report advises that the key to doubling farmers' income is to identify clean cold chain technologies that are economic, efficient and sustainable, and to accelerate their deployment.
The report, entitled 'India's Third Agricultural Revolution – Doubling farmers' incomes through clean cold chains' was written as a result of a study tour and workshop led by the University of Birmingham's Energy Institute, with help from the Foreign and Commonwealth Office, the Department for International Trade, the state government of Haryana, and India's National Centre for Cold-chain Development. It addresses the next steps in the challenge of developing sustainable cold chains in India quickly and advises that there should be an introduction of:
India clean cold chain centres – a series of regional 'living labs' called the India Clean Cold Chain Centres (14C) to solve all of the interlinked challenges of delivering clean cold chain development simultaneously and coherently.
India-UK study tour and workshops – the UK delegation learned a lot from discussions with farmers, technologists and officials from their visit to India. An Indian delegation to Britain in which representatives of world-class supermarkets, logistics operators, manufacturers, clean cold technology companies, investors and academics, as well as farmers who have expanded into food processing and developed their own brands, are met, could prove equally valuable. In particular, both sides could learn about the challenge of commercialising clean cold in India.
India LNG waste cold/cold chain study – A site-specific feasibility study should be carried out to investigate the economic, environmental and engineering aspects of integrating India's LNG waste cold into its new cold chains. This would quantify the scale of cold chains that could be served economically, including the nature of the cold chain services, and their volume, location and distance from LNG terminal.
The project's launch report acknowledges that there is currently a lack of a comprehensive clean cold chain demonstrator – one that demonstrates both technologies and business models, and which is fully engaged with the farming communities. It is this that is the biggest barrier.
The report, therefore, stresses the importance of international collaboration – global science with local solutions. With Britain and India working together, a series of clean cold chain centres will be established to hasten the development of this vital infrastructure. The centres will be technology neutral; regionally, socially and culturally inclusive; and test not only technologies, but also business models.
The centres must also be designed to expand into commercial deployment where successful, to accelerate market impact. The new clean cold chains catalysed by the centres will conserve huge amounts of food that currently never make it to the consumer, leapfrog the old polluting technologies that dominate in the developed countries, and help achieve Prime Minister Modi's target of doubling farmers' incomes by 2022.
Professor Toby Peters, from the Birmingham Energy Institute said: "Cold chain can raise farmers' incomes many times over by increasing the proportion of food that gets to market, improving food quality and value to the customer and increasing the range of distribution to more valuable markets or export.
"The challenge is that this must not create an environmental catastrophe with increases in Co2 and emissions. India is about to see a massive increase in cold chain building and transport. It is essential we work together to leapfrog to new clean cooling solutions."
Pawanexh Kohli, CEO of the National Centre for Cold Chain Development, the Indian Government's taskforce on cold chain, commented: "Cold chain mitigates food loss and expands market frontiers. Clean cold-chain does this in sustainable manner. These are vital for economic security of farmers."
The workshops and study tours were a key part of a major research project to investigate how 'clean cold' could help to achieve the United Nations' (UN) global Sustainable Development Goals. These 17 'Global Goals' commit the international community to put the world to rights by 2030 - abolishing poverty and hunger; providing good healthcare and education; raising people's quality of life; and cleaning up the environment, whilst promoting economic growth. Building on the India-UK Tech Summit in autumn 2015, the study tour and report seeks to develop the UK-India relationships in industry, trade and government.
For more information or interviews , please contact Tony Moran, International Communications Manager, University of Birmingham on +44 (0) 121 414 8254 or +44 (0)782 783 2312. For out-of-hours enquiries, please call +44 (0) 7789 921 165.
The University of Birmingham is ranked amongst the world's top 100 institutions, its work brings people from across the world to Birmingham, including researchers and teachers and more than 5,000 international students from over 150 countries.
The Birmingham Energy Institute is the focal point for the University, and its national and international partners, to create change in the way we deliver, consume and think about energy. The Institute harnesses expertise from the fundamental sciences and engineering through to business and economics to deliver co-ordinated research, education and the development of global partnerships.
Professor Toby Peters will be meeting State Government officials and industrial contacts in India from Monday 3 July to discuss the report's findings and the next steps in introducing clean cold to India's farming industry.
The provision of cold, or cooling, is integral to modern society; without it, the supply of food, medicine and data would simply break down. Cold is also vital for many other applications including air conditioning, super-critical technologies and freezing and powdering materials for recycling and easy disposal. Yet cooling currently consumes large amounts of energy and causes a great deal of pollution. Learn more about the Birmingham Energy Institute's work in clean cold.