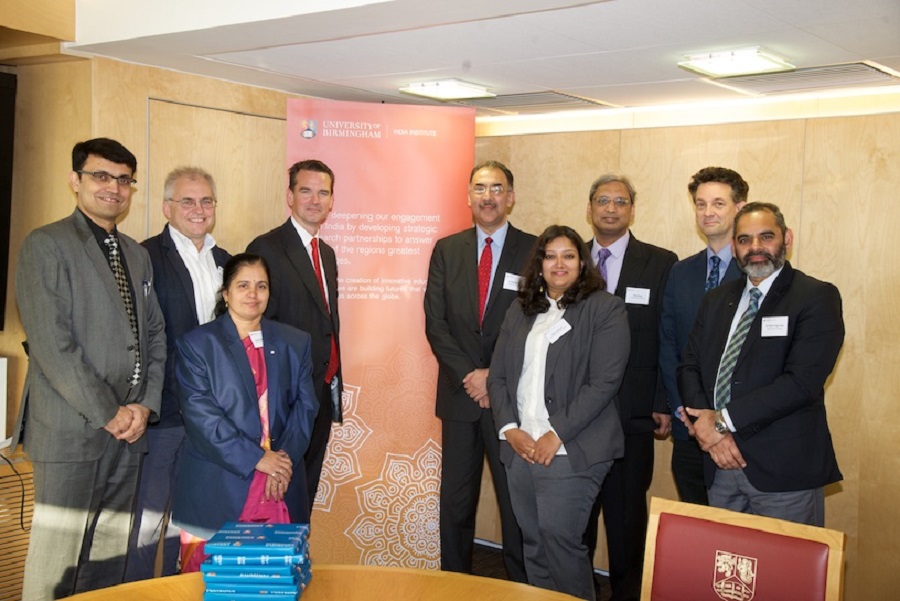 A roundtable in Delhi on how to deploy clean cold chains to help India's farming and food sectors without creating unintended environmental consequences will make a major contribution to refining plans for sustainable cooling.
The event in India builds on a major Indo-UK workshop last month at the University of Birmingham, attended by senior officials from Haryana, Andhra Pradesh and Punjab as well as academics, industry and government from the UK.
Heriot-Watt University is hosting the event in Delhi, which will progress work done in Birmingham ahead of the world's first international clean cold congress, hosted by the University of Birmingham in April 2018.
As project leader Professor Toby Peters, Professor in Cold Economy at the University of Birmingham and a Senior Research Fellow at Heriot-Watt University, explained: "Last month with experts from India, we have laid the framework for the provision of clean and sustainable post-harvest food cold chain from the first mile to the last mile and the consumers.
"We considered the major challenges and barriers surrounding this step change, such as the skills gap and suitable training, lack of robust protocols and standards, as well as the cultural and political environment. This roundtable event in Delhi is now a chance to further test and develop our thinking with a broader group in-country and continue to build the community to help deliver."
The roundtable coincides with a higher education mission to India with senior figures from the University joining Deputy First Minister, John Swinney on meeting business leaders and representatives from the Indian Government.
Professor Richard Williams, Vice-Chancellor and Principal of Heriot-Watt University said: "We are delighted to be hosting this important workshop and working with influential partners on a very important issue for India's rural and food industries.
"The aim of the event is to update on where we are now and engage with senior representatives of Government, farmers, academia and industry on this important project.
"We will be exploring a number of ideas around the importance of the Cold Chain. They don't just reduce post-harvest food loss but allow farmers to earn more by maintain the quality of their produce and selling it further afield."
Just 4% of India's food is moved through the cold chain and as much as 40% of some crops is lost before reaching the market. Cold chains don't just reduce post-harvest food loss, but also allow farmers to earn more by maintaining the quality of their produce and selling it further afield, especially when this means they can reach distant cities. They are seen as essential to delivering Prime Minister Modi's challenge of doubling farmers incomes.
Professor Toby Peters added: "Our work during the workshop at the University of Birmingham represents a big step forward in tackling the issue of cooling for India and other rapidly developing countries sustainably.
"Cooling is the backbone of society and demand is growing fast, but it is energy intense and often reliant on diesel. We need more radical innovations beyond electricity and batteries and new ways of working to ensure delivering cooling does not adversely impact climate change or the already high level of pollutions on our roads in our cities. We need to act urgently and create one community working collaboratively – not just in India, but around the globe. The opportunities offered in developing markets can encourage new thinking, business models and policy which can enhance economic wealth, cash flow and security for farmers and improve food quality, safety and value to the customer and achieves these with minimum environmental impact."
A core objective is the development of living demonstration facilities of integrated clean cold technologies, and, working with farmer communities, the development of economic models to understand the envelope in which new technologies need to fit. A critical element in the new centres will be the engagement and outreach to small and marginal farmers.
Dr. Abhilaksh Likhi IAS, Principal Secretary, Agriculture & Farmers Welfare, Government of Haryana who joined the workshop and is attending the roundtable has announced the opportunity of setting up a first Regional Clean Cold Chain Centre in collaboration with the new Horticulture University in Karnal, Haryana.
The University of Birmingham is ranked amongst the world's top 100 institutions, its work brings people from across the world to Birmingham, including researchers and teachers and more than 5,000 international students from over 150 countries.
Heriot-Watt was recently named the Times and Sunday Times International University of the Year. The University of Birmingham is ranked amongst the world's top 100 institutions, its work brings people from across the world to Birmingham, including researchers and teachers and more than 5,000 international students from over 150 countries.
The objective of the Indo-UK collaboration is the co-design and implementation of frameworks for the provision of clean and sustainable post-harvest food cold chain - an integrated, seamless and resilient network of refrigerated and temperature controlled pack houses, distribution hubs and vehicles made in country and used to maintain the safety, quality and quantity of food, while moving it swiftly from farm gate to consumption centre - that are attractive to end-users, civil society, governments, policy makers, industry and finance community to ensure impact, lasting legacy and scalability. It should specifically enhance economic wealth, cash flow and security for farmers and improve food quality, safety and value to the customer; and achieves these with minimum environmental impact.
Working with the National Centre for Cold-chain Development (NCCD), and the UK's Science and Innovation Networks, the Birmingham Energy Institute brought together government, industry, technology and academic professionals from India and the UK earlier this year. The four-day initiative in India examined ways to deliver cold chains from farm to market whilst minimising carbon footprint. Currently as much as 40% of food can be lost in India due to lack of cold chains.
The programme actively supports the SEforALL 'Cooling for All' initiative, launched in July, to identify the challenges and opportunities of providing access to affordable, sustainable cooling solutions for all. The initiative is supported by the UN, World Health Organisation (WHO), industry experts and Governments.
Partners are this week meeting in Delhi and will continue to refine the plan ahead of the world's first international congress dedicated to clean cold, which will be hosted in the UK by the University of Birmingham in April 2018. The 'Cool World' conference will build on Birmingham's work with partners to explore how 'clean cold' technology can sustainably meet the broad range of needs from cold chains for food and medicine to making more and more of the world bearable - or even safe - to live in.
Participants will address a wide range of issues, including:
Future role of cooling - where demand will come from and what will drive it;
Economic, social and health opportunities of cold for the developing world;
Social, environmental and economic risks of not addressing demand or using existing, predominantly fossil fuelled, technologies;
Alternative and emerging clean cold technologies; and
Economic opportunity created by a new 'cold economy'