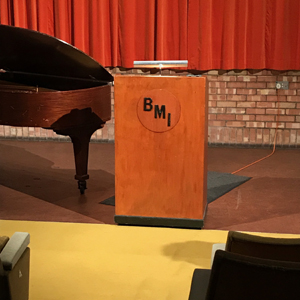 People & Pages: A Showcase of Local and Regional Poets was framed by Dr Rona Cran, as the night commenced, as a "celebration of the power of voice and the spoken word".
Indeed, the very notions of sound, of voice, and – inevitably perhaps – of music, were all challenged and explored as the evening's performances took place. Frank O'Hara famously adored music, and in much of his work displayed the interchangeability of poetic verse with musical chorus; the night, similarly, was filled with poems whose vernacular and word choices were inherently musical – especially the poems of Nyanda Foday, who identifies as a "spoken word artist".
O'Hara's spirit was firmly invoked not just in the musicality of the arts being performed, (he would, I believe, have been ecstatic at Domonkos Csabay's rendition of Schubert's Wanderer Fantasy) but also in the setting. O'Hara was a firm believer in poetry being an interaction between people, and the cosiness and setting within the Birmingham and Midland Institute facilitated a strong sense of proximity and intimacy. It was a room filled with both staff, students and members of the public, but the degree of understanding or prior exposure to poetry was irrelevant: this was a room of gathered like-minded individuals – a temporary coterie if you will – who sought to hear, and to be moved by words.
This was certainly fulfilled by the four assembled poets in the room. Andrew Taylor, whose poetry celebrated modernity and family relationships, allowed us all to share in his love of tracking parcels. Becky Cullen's words revealed a poet exploring different facets of herself; her Libyan poem was particularly striking – dark yet beautiful.
The University's own Vidyan Ravinthiran moved us with his sonnets, and tickled us with his comical narrative voices, with one such poem, 'Chair Addressing Jackie Chan', told from the perspective of a chair being used by Chan in a fight. Nyanda Foday, Birmingham's Young Poet Laureate, headlined the evening with a lyrical, rhythmic poetic that explored her relationship to the city. Interjecting the first and last two poets was Csabay's gorgeous rendition of Schubert's Wanderer Fantasy. The twenty-minute piece of four undivided movements entranced the audience. Looking around, every face reflected the inner mind transported on some dreamscape, delicately moved and directed by Schubert's silent vocals – it is easy to understand why O'Hara held such a love for the composer.
Thanks to Dr Rona Cran, of the ACS Research Centre, and Dr Rachel Sykes of the Contemporary Literature and Culture Centre, and to the Birmingham and Midland Institute, for organising such a wonderful demonstration of the musical and poetic talents of the region.
Luke Carr, MA Literature and Culture