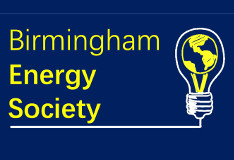 As the first term draws to an end, the University of Birmingham's Energy Society shows no sign of slowing down its agenda or energy (pardon the pun) albeit the days being shorter and darker.
Upon setting up the society at the start of the new academic year, the society sought out to attract members, and attract it did indeed! The society was thrilled with the volume of students expressing their interests and all representing a variety of different degree backgrounds. When the elections for a committee took place it was exciting and encouraging for the creators of the society to see such a large number of students wanting to get involved and be responsible for helping guide the society for it to take shape and grow.
Over the course of the term, we have had the opportunity to attend several enlightening talks. These included a talk by Dr Sam Stranks on 'The Future of Perovskites for Solar Power and Lighting' and a talk hosted by the University illustrating the current work being undertaken in hydrogen and fuel cell research. In week 7 we had the pleasure of welcoming Professor Martin Freer, the Director of the Birmingham Energy Institute. His talk covered topics such as regional energy policy, issues surrounding heating and cooling and Energy Innovation Zones, all of which were fascinating to learn about. Whilst maintaining a strong professional orientation of the society, the committee has not neglected the social aspect of university life and arranged more informal socials accordingly. This was a great opportunity for the society to get to know one another, meet like-minded people and help create a community feel.
In addition to the talks, the society has held a couple of other interesting events. These included a 'Coffee and Conversation' event in which members were able to drop in to voice their thoughts and ideas on the issue of sustainability along with a work experience workshop. This was a valuable workshop where members and guests shared their experiences of working in the energy industry to help members formulate their career path and interests.
To round off the term we held a Christmas social providing a great opportunity to reflect upon all the events, the running of the society and to celebrate the great successes that have occurred so far.
Stay with us it doesn't end here…! We plan to start the New Year with another busy agenda and are organising a trip to Tyseley Energy Park amongst many other exciting events. Keep your eyes peeled for more information on our Facebook page!
Until then, we wish you a wonderful Christmas break and we look forward to welcoming back our members as well as welcoming new faces in January!