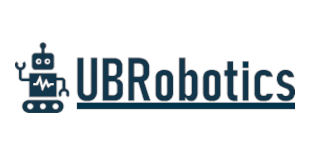 The 2017/18 academic year has been an extremely exciting and busy time for UBRobotics. As always we will be competing in Eurobot, an international robotics competition focused on developing autonomous robots to complete a series of complex tasks in a table top arena. The competition is close and we've got everything crossed for another successful entry.
Over the year team members have had the opportunity to develop, from scratch, two robots for the competition exploring how robotics can be applied to solve everyday problems. The theme for this year's competition is Robot Cities and is looking at how cities can be made more sustainable, intelligent and eco-friendly with the addition of autonomous robotics. This involves tasks such as colour sorting balls for recycling, the building of model modular homes and the designing of a home automation panel to monitor the arenas vitals. Each task addresses a key robotics challenge such as manipulation, accurate movement, vision or autonomous logic. The competition consists of a series of head-to-head 100 second rounds where robots must solve as many tasks as they can, as quickly as possible. We are hoping to continue our great streak and secure a high position in the competition in May!
Over the past three years the Hands Up fund has played an instrumental part in the development of UBRobotics, allowing us to attend events, run new activities and purchase much needed equipment. This year Hands Up once again supported the club in developing a series of student led projects aiming at expanding key engineering and robotics skills. These projects built upon the skills taught in last year's Hands Up funded technical workshops and cover a new range of activities such as the design and building of a new 3D printer, implementation of a new motion control platform, development of a robotic arm and investigation of in house machining. These projects have engaged members with a range of backgrounds to give experience leading a project and provided an understanding of the technical difficulties you may face along the way. Hands Up is supported by generous donations from the University's alumni and we are very grateful for their support – thank you!
A key development this year was the addition of National Instruments sponsorship who have provided over £30,000 of in-kind donations to the Club. The powerful new hardware and software they have provided allows us to explore more complex robotics and more effective solutions utilising computer vision, machine learning and quick prototyping. This sponsorship allows the Club to compete at an even higher level, with greater data collection and debugging information and we are grateful for their support. We can't thank National Instruments enough either!
If you would also like to be involved, either by partnering or sponsoring us, or joining the Club please do get in touch; we'd love to hear from you. Also, if you've been impressed by what we've been up to this year please consider nominating us for an EPS Societies' Award.
Thank you to everyone who has backed UBRobotics this year and watch this space for news on the competition!
Edward Chamberlain
UBRobotics President