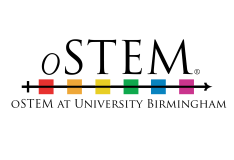 It is coming up to the end of an amazing autumn term for oSTEM Birmingham. This term marked our third year as an oSTEM chapter, a space for those who identify as LGBTAQ+ with an interest in STEM.
We continued our weekly coffee socials throughout the term, giving a chance for LGBTAQ+ people across the STEM community at Birmingham to come together and meet people like themselves. These included our Halloween coffee and our openspace social for Transgender Day of Remembrance held in the Birmingham LGBT Centre.
To kick off the new academic year we visited ThinkTank, Birmingham Science Museum, to give a chance for our members, both new and returning, to see what Birmingham has to offer in terms of science. We also took a trip to the Vale to take part in the Duck and Scholar quiz.
Members of oSTEM on the Annual Conference
We had our second opportunity to attend the oSTEM Annual Conference in November. This year in its eighth iteration, hosted in Houston, Texas titled "Making Space for Everybody" with companies such as The Home Depot, NASA, NIA, Raytheon and many more. This year we were lucky enough to be able to double the number of our members attending. Some highlights from the workshops and keynotes this year include the Leadership Summit, Mayor Annise Parker, the first openly LGBTQ mayor of an American city, Steve Riley from NASA's Johnson Space Centre, Queering Biology Classrooms and Discussion On Encouraging STEM in Primary Education. We also had the chance to meet up with other chapters, many of which we'd kept in close contact with over the past year and even tour the Houston Museum of Natural Sciences.
Society Chair on the Annual Conference
To continue with our speaker events, this term we were lucky to host:
Paul J. Di Mambro, the sustainability manager for Laing O'Roukre and Co-chair for Midlands Branch of Inter-Engineering
Dr Tyler Kelly, member of Geometry and Mathematical Physics group at University of Birmingham
and Al Loomes, research associate and PhD student at SyMON lab.
To finish off the term we held our Winter Meal at the Dilshad and the oSTEM Winter Quiz. This quiz, written by the committee composed of a picture round of famous LGBTAQ+ scientists, new breaking edge science this year, Birmingham, Christmas and of course a Christmas music round!
Next term we are looking forward to our events for LGBT History month, 50 years since the Stonewall Riots. We successfully applied to the Alumni Impact Fund for the first time this year and the funds received from them are to be spent next term on a first of its kind for oSTEM Birmingham event to end such an important month. Keep checking our social media for details including our brand new Instagram.
As always, please message the Facebook page to be added to our secret group or become a member on the Guild website to keep up to date with our latest events. Hope to see you at some of the exciting events we have planned for you next term!
Avery Cunningham
Chair oSTEM Birmingham