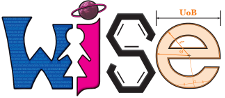 This term has been really busy for WISE, and has seen us extend our outreach, hold two careers events, and run some amazing socials!
Our first speaker event of the year was our WISE Inspire Networking evening. We invited female speakers from academia to talk about their experiences as women in science. We're so thankful to Dr Jennifer Bryant, a cancer scientist, Maria Sharif, a postgraduate, and Professor Rachel O'Reilly (pictured), the Head of Chemistry here at the University. All three talks were fantastic, and we had great attendance which allowed for a lot of networking over pizza at the end of the evening!
We collaborated with the brand new BEaMS (Black Ethnic and Minority Scientists) society to run a PwC resilience workshop, which gave final year students the opportunity to learn what employers are looking for and how to stand out in the recruitment process. We hope to collaborate with BEaMS again in the future!
Our biggest success this term has been the expansion of our Outreach programme. We had our Alumni Impact Fund grant doubled, gaining £3,000 to spend on running our after-school club in the local community.
There's been a huge increase in our volunteer recruitment – with over 60 volunteers from across the University and multiple scientific disciplines, allowing us to collaborate more than ever.
We've held a club in Hillcrest School every Thursday afternoon for the last two months, running experiments for KS3 female students. From red cabbage pH indicators to constructing towers from spaghetti, we've been blown away with the enthusiasm from the girls and can't wait to continue our club next term. We plan on focusing more on computer science and engineering and will be using some of our funding to purchase Raspberry Pi's to run sessions on coding.
We're going to be extending our programme into other schools, so if you're interested in getting involved in our outreach programme don't hesitate to contact us on any of our social media! For more information on our outreach, read a recent article about the programme on the STEM ambassador website.
Through attending outreach events, and encouraging our members to become STEM Ambassadors, we have continued to develop relationships with multiple outreach organisations. We hope to put our growing network to use in the future to further expand our programme.
This has been a very sporty term for the Society! We've created a new netball team in collaboration with Chemsoc and BioSoc. As well as this, we sponsored our Outreach Officer Poppy in the BUDS charity fun run raising money for Parkinson's research.
On the more social side of things, we went to café scientific for the first time to hear a talk by Professor Georgia Rippon on the gendered brain, as well as visit the women power protest at the Museum of Birmingham – a fantastic exhibit exploring protest and women's issues.
If you want to get involved find us on Facebook, Instagram or Twitter!