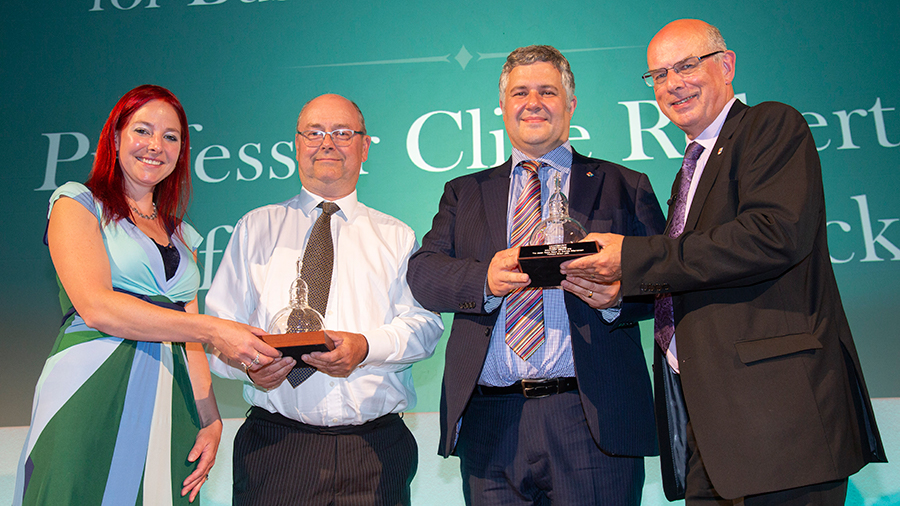 Two leaders of the Birmingham Centre for Railways and Research Education (BCRRE) received University Founders' Awards for Excellence at the Chancellor's Dinner held on Thursday 13 July.
Professors Clive Roberts and Anson Jack are this year's recipient of the Founders' Award for Business Advancement. These awards are a reflection of the excellent work being carried out by colleagues across the College, and this further highlighted the expertise of BCRRE.
Professors Roberts and Jack were nominated for their considerable efforts in bringing the rail industry together with the University of Birmingham in an extraordinary year of success. Their work of collaborating with industry and academia has not gone unnoticed, as they have continued to push the boundaries of university involvement within the industry.
First, they brokered industry to support the University's succesful bid to the Higher Education Funding Council for England (HEFCE) Research Partner's Infrastructure Fund (RPIF), which was announced in July 2017. The professors were able to leverage more than two-thirds of the £92M awarded from an industry which often looks to Network Rail for its contracting rather than working directly with universities.
This has then been followed up by their establishment of UKRRIN – the UK Rail Research and Innovation Network – officially launched earlier this year. This body, led from within the University of Birmingham, is designed to create a powerful collaboration between academia and industry, aiming to provide further development in innovation within the sector and accelerate new technologies and products from research into market applications globally. Its success is signalled by its prominent position in the UK Government's Strategic Vision for Rail, which was published in February.
The Founders' Awards are named after some of Birmingham's most influential benefactors, and demonstrate that their vision of ground-breaking research with local, national and global impact is as alive today as it was when the University was founded in 1900. The awards recognise the very best academic work from across the University's broad spectrum, which has significantly contributed to the advancement of the University's reputation both nationally and internationally.