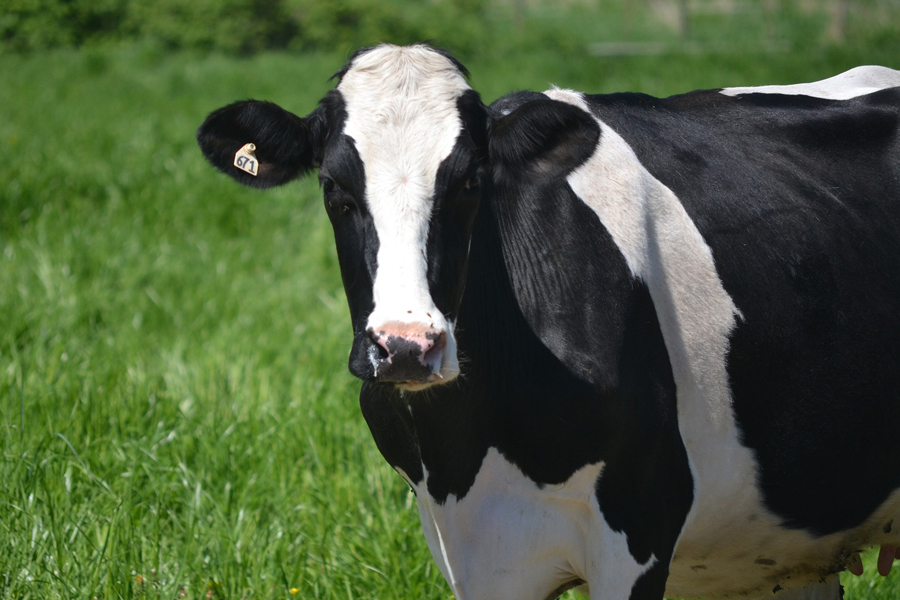 Abingdon Health, a tenant at the University of Birmingham's bio-incubator, is developing a rapid diagnostic test for bovine mastitis, a common and serious health problem in dairy cows, which has an estimated £14-23 billion impact on the global dairy industry.
Mastitis is usually caused by bacterial infection in the cow's teats or udder, and reduces the quality of milk, rendering it unsaleable – and can be fatal to the cow. It is a problem for dairy farmers around the globe – for example, in India where there are 43,600,000 dairy cows making up 16.5% of the global dairy cow population.
Currently mastitis is detected by visual inspecting the milk, and the type of infection is confirmed by sending it off for laboratory testing – which is both time-consuming and expensive.
The University's relationship with Abingdon Health started in 2010, when a joint venture resulted in a new start-up company called Serascience, who developed Seralite®, the world's first rapid test for multiple myeloma. The test is used in human healthcare and is now available in 70 countries worldwide.
Abingdon's diagnostic test for mastitis will be based on a lateral flow technology that can be used on the farm, to identify the type of bacteria that caused the infection.
Test results will ensure that the cow is quickly prescribed the right antibiotic to treat the infection, and it is expected that this will reduce the inappropriate use of antibiotics, and the spread of disease between cattle in milking herds.
The test will aim to provide sensitive measurements in order to stratify mastitis by bacterial class (gram-negative or gram-positive).
Dr David Pritchard, Chief Technical Officer of Abingdon Health Ltd, commented: "The pressure to reduce the use of antimicrobials in food production is growing rapidly. To do this, we need to provide farmers with rapid diagnostic tests that guide the choice of antibiotic, and ensure animals are treated quickly and effectively with the right antibiotic. We also believe this test will provide benefits to the dairy industry in terms of milk quality and yield, and to the cattle in terms of animal welfare."
The development of the diagnostic test has been funded by an £805,000 grant from Innovate UK, the UK's innovation agency. The test will be developed in partnership with the University of Glasgow, and will combine the diagnostic assay development expertise of Abingdon with the animal health and biomarker knowledge of the University of Glasgow to develop a highly sensitive and specific assay with the ability to stratify mastitis by bacterial class (gram-negative or gram-positive), thus offering fast, on-farm decision making about antimicrobial treatment of cows with mastitis and providing an opportunity to reduce antimicrobial use whilst safeguarding cow health.
The University of Birmingham is ranked amongst the world's top 100 institutions. Its work brings people from across the world to Birmingham, including researchers, teachers and more than 5,000 international students from over 150 countries.
The University's relationship with Abingdon Health dates back to 2010 when the University formed a joint venture to commercialise diagnostic tests. One of the outcomes was the formation of a new start-up company called Serascience. This was set up to develop medical diagnostic tests devised by Professor Mark Drayson that allow 'point of care' diagnosis and management of patients with myeloma and related immune cell disorders. In 2014, Abingdon Health acquired Serascience, and the University became a shareholder in the company. The University has invested in the opportunity both prior to, and since that acquisition, and remains a shareholder in Abingdon Health.
The BioHub Birmingham® is managed by University of Birmingham Enterprise, which provides enterprise training, funding, office and laboratory space, a full technology transfer service, as well as managing the University's spinout portfolio and business and bio-incubation services and facilities at the Birmingham Research Park.
For further information contact Ruth Ashton, Reputation & Communications Development Manager, tel: + 44(0) 121 414 9090, mob: +44(0) 7989 558041.
Abingdon is a UK-based developer and manufacturer of lateral flow immunoassay tests and readers.
Internally Abingdon is focused on developing lateral flow assays in partnership with key opinion leaders that meet currently unmet needs. In addition, Abingdon offers development and manufacturing services for customers looking to develop new assays or looking to transfer existing laboratory-based assays to a lateral flow format. Abingdon take projects from initial concept through to routine and large-scale manufacturing. Abingdon's patented lateral flow reader, the ADxLR5®, is CE marked and FDA registered and can be fully customised to meet the needs of clients looking for a quantitative solution for a lateral flow assay.
For further information contact Malcolm Briggs, Sales & Marketing Executive, Abingdon Health Ltd, tel: +44(0) 1904 406050.
Innovate UK is the UK's innovation agency. It works with people, companies and partner organisations to find and drive the science and technology innovations that will grow the UK economy.